Lakefield Trail Stewardship Committee
Stewardship is "The conducting, supervising, or managing of something; especially: the careful and responsible management of something entrusted to one's care."
The Lakefield Trail Stewardship Committee was formed in 2001. A Stewardship Plan was put in place at that time to ensure ongoing risk management through a volunteer Stewardship Program and Quarterly Trail Inspections by the Sub-Committee, reporting to the Director of Recreation.
The Lakefield Trail Stewardship Committee is a group of volunteers who are dedicated to the preservation of the Lakefield Trail. The Stewardship Committee liaises with the Township of Selwyn, Recreation Department at the sub-committee level.
The goals of the Stewardship Committee are:
To organize fundraising activities for Trail maintenance and enhancements,
To promote natural environment education and recreational activities, and
To promote all local and area trails.
The Stewardship Committee meets on the first Tuesday of every month (except July and August), at 5:30 pm in the Centennial Room, Memorial Hall, Lakefield. Our meetings are open to the community. If you are interested in joining the Stewardship Committee or sitting in on one of our meetings, we would love to hear from you.
For more information please call 705-292-9507 Ext. 243 or email Parks & Recreation Department.
Stewards of the Trail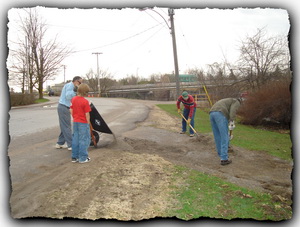 In addition to the Lakefield Trail Stewardship Committee, many Volunteer Stewards maintain designated sections of the Trail. Our Volunteer Stewards are responsible for litter control and reporting any damage to the Trail, its benches, or trees to the Stewardship Committee.
We currently have a few sections of the Trail that need a Volunteer Steward's care.
If you would like to become a Volunteer Steward, please call 705-292-9507 Ext. 243 or Parks & Recreation Department.
---
Volunteers
The Lakefield Trail needs you!
After enjoying all the benefits the Lakefield Trail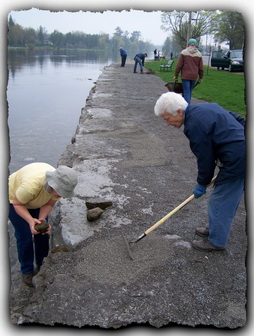 has to offer, many people in our community have decided to give something back to the Trail.
Volunteer and become a part of the Lakefield Trail! This is your opportunity to help share your experiences, be a part of a team, learn new skills and develop lasting friendships. Volunteering for the Lakefield Trail will allow you to choose from a variety of opportunities with various levels of commitment.
From Stewardship Committee meetings to the Trail Work Days, volunteers typically commit about 4 hours a month to their positions. Many of our volunteer positions are project based, rather than a regular monthly commitment. Today, more than 35 dedicated volunteers donate their time and talents.
With opportunities to suit everyone, there is a place for you! Please join our effort to maintain and promote the Lakefield Trail.
Lakefield Trail Volunteer Opportunities:
If you are interested in supporting the Lakefield Trail as a volunteer, below are some of the opportunities:
Become a Trail Stewardship Committee member. We meet one evening a month in Lakefield.
Assist with general trail maintenance such as litter pick-up, spreading limestone screenings, and carpentry.
Lend a hand at trail events such as the May spring nature walk, the Lakefield Jazz Festival booth, and the August sidewalk sale booth.
Install benches.
Assist with planting, especially at the Trailside Garden this spring.
For more information please call 705-292-9507 Ext. 243 or Parks & Recreation Department.
Contact Us