Teen Advisory Group (TAG)
SPL's Teen Advisory Group is an opportunity for teens to contribute to their public library by sharing their ideas and helping to develop services and programs for teens. Meet other teens, gain new skills and earn community involvement hours too!
Open to teens ages 13-18.
Monthly meetings on the third Thursday of the month (unless otherwise noted) at rotating library locations.
Countdown to the Holidays: Make Your Own Ugly Christmas Sweater
Date: Thursday, December 7
Time: 6:00 -7:00 p.m.
Location: Ennismore Library

Register for Make Your Own Ugly Sweater
Countdown to the Holidays: Gingerbread House Decorating
Date: Thursday, December 14
Time: 6:00 - 7:00 p.m.
Location: Ennismore Library

Register for Gingerbread
SPL Makerspace
To view the full list of Makerspace programs, please visit the SPL Makerspace page.
Teen Reviews
Earn community service hours by reviewing books and movies in our collection! Discover new titles and improve your writing and critical thinking skills too! For every approved review submitted you will earn one hour of community service with a limit of 2 per month.
For more information, email Sarah Jones, Ennismore Librarian.
Teen Reviewer Qualifications:
Ages 13-18
Live in Peterborough County
September 2023 Teen Reviews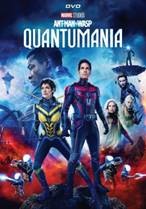 Ant-Man and the Wasp Quantumania
Written and Directed by: Jeff Loveness and Peyton Reed
Reviewed by: Anonymous Grade 9 student
Score 3/5
Ant Man and the Wasp Quantumania is an exciting film directed by Jeff Loveness and Peyton Reed and was a kickoff to phase 5 of the MCU (Marvel Cinematic Universe). Quantumania is a funny movie that has some pretty decent action scenes and good effects. However it does have its flaws, the plot can be a bit confusing which can be hard to follow at times. The main plot is that the characters are sent to the Quantum Realm but get separated. They have to try to find each other but run into some problems along the way. One thing this movie did well in comparison to some earlier MCU movies is that it knew when to be funny and when to be serious, unlike Thor: Love and Thunder (which is directed by Taika Waititi).
Quantumania has some characters that are interesting while others are sidelined and have no significant part of the plot, like the character of The Wasp played by Evangeline Lily. On the other hand, Paul Rudd who plays Ant Man was great in this movie. He was really funny and his scenes with Kathryn Newton who played Cassie, his daughter were entertaining because they had good chemistry. Hank Pym, played by Michael Douglas, was also sidelined. He didn't have as major a role as he had in previous Ant Man movies. Janet played by Michelle Pfeiffer had a lot to do in this movie mainly because of her past in the Quantum Realm. Lastly, Jonathan Majors who plays Kang played a great villain, he had great scenes and made the plot more exciting and kept the audience engaged.
In conclusion, Ant Man and the Wasp Quantumania is an average MCU film. It doesn't give you enough to really like but it also doesn't give you enough to not like it. There is just so much going on at once making the plot difficult to follow, despite this the movie is worth watching if you are an MCU fan because it is entertaining and Paul Rudd is really funny.



July 2023 Teen Reviews
Bluefin (2017 documentary)
Written and Directed by: John Hopkins
Reviewed by: Anonymous, Grade 9
Rating: 3.5/5
Bluefin is written and directed by John Hopkins. Bluefin is an entertaining documentary film that is set in North Lake, Prince Edward Island, Canada. Bluefin digs deep into the sad history of the great Bluefin Tuna and the mystery of why these fish no longer fear humans.
Bluefin is 53 minutes long but captures its audience through the many interviews and stories gathered from the local people and fishermen of North Lake. The people talk about what they think of the situation, how they want it to get fixed and for others they talk about the impact it is happening on their lives and their families.
What makes this film interesting is hearing the many stories from the perspective of the local people. They passionately talk about how fishing for Bluefin Tuna is something they love and how it has been happening through generations. Their stories are the key parts of the film, allowing the audience to connect to the emotion of the film, especially for those who also have a love of fishing, like myself.
This film is extremely entertaining and is filled with a lot of questions and mysteries that are answered throughout the film by scientists and local fishermen. I would recommend this documentary for anyone who would like to learn and discover more about these fantastic creatures.
May 2023 Teen Reviews
Harry Potter and the Sorcerer's Stone
Directed by: Chris Columbus
Reviewed by: Anonymous, Grade 12
Rating: 3/5 stars
"Harry Potter and the Sorcerer's Stone" is a magical film directed by Chris Columbus based on the first book in J.K. Rowling's beloved Harry Potter series. The film takes us on a journey with young Harry Potter, who discovers he is a wizard and attends Hogwarts School of Witchcraft and Wizardry. The film does an excellent job of bringing the magical world of Hogwarts to life, with stunning visual effects and imaginative set designs. The cast, led by Daniel Radcliffe as Harry, Emma Watson as Hermione Granger, and Rupert Grint as Ron Weasley, are all outstanding in their roles, bringing the beloved characters to life in a way that feels both authentic and engaging.
The story follows Harry as he learns about the wizarding world and his place in it. Along the way, he encounters friends and foes, including the dark wizard Voldemort, who killed his parents. The film balances its darker themes with humor and heartwarming moments, making it a family-friendly adventure that appeals to audiences of all ages.
The film's score, composed by the legendary John Williams, is a standout element of the film, adding an additional layer of magic and excitement to the already enchanting story. Overall, "Harry Potter and the Sorcerer's Stone" is a fantastic film that captures the wonder and magic of the book series, making it a must-see for fans and newcomers alike.
The Shining
Written by: Stephen King
Reviewed by: Anonymous, Grade 12
Rating: 4/5 stars
Stephen King's novel "The Shining" is a gripping and atmospheric horror story that is sure to leave readers on the edge of their seats. The book follows the story of Jack Torrance, a recovering alcoholic and struggling writer, who takes a job as the winter caretaker of the isolated Overlook Hotel in Colorado with his wife Wendy and young son Danny.
As winter sets in and the family settles into their new home, it becomes clear that the hotel has a dark and haunted past. Danny, who possesses a psychic ability known as "the shining," begins to see visions of the hotel's sinister history, including the ghosts of former guests and staff members who met untimely ends. Meanwhile, Jack's own demons begin to resurface, as he struggles to overcome his addiction and the pressures of his failing writing career.
King expertly builds the tension throughout the novel, with eerie and unsettling scenes that will keep readers up late into the night. The characters are well-drawn and complex, particularly Jack, who is both sympathetic and deeply flawed. King also touches on themes of addiction, family dysfunction, and the legacy of trauma. Overall, "The Shining" is a masterful work of horror that is sure to haunt readers long after they've turned the final page. It's a must-read for fans of the genre and a great introduction to King's body of work for those who are new to his writing.
Mystery Book Bags (Ages 13 - 19)
Tell us the themes you like and we'll make up a bag of books!
You can also choose the types of books you receive (eg. Chapter Book, Non-Fiction) and more.
Pick up the bag via curbside pickup at your local branch.
Contact Us