Beaches
Beach Locations
Ennismore Waterfront Park & Beach
Location: 1053 Ennis Road, Ennismore

Covering over 50 acres on the shores of Chemong Lake, this park has a beach and a large picnic area with a pavilion and swimming area. The Ennismore Heritage Trail is a main feature of this park.
Lakefield Beach & Playground
Location: 64 Hague Boulevard, Lakefield

Lakefield Beach is popular among many residents and visitors; conveniently located in Hague Point near downtown and a number of amenities such as a playground, pavilion, the Lakefield Marshland Centre, and the Lakefield Millennium Trail.
Jones Beach
Location: 908 Jones Beach Road, Bridgenorth

Jones Beach is located in Bridgenorth with a beach, pier, and picnic area ideal for families and small children.
Beach Testing
Peterborough Public Health maintains a routine surveillance program for public beaches during the summer months to ensure that the water quality is safe for swimming.
Some of the main factors that can result in unsafe levels of bacteria between inspection times are: heavy rainfall, large numbers of waterfowl, high winds or wave activity, large numbers of swimmers.
The surveillance program begins in June and continues until the end of August each year.
For the most recent sampling results, call 705-743-1000 or visit Peterborough Public Health.
Parks
Burritt Mann Memorial Park
Location: 2048 Mud Road, Selwyn
Located in the hamlet of Selwyn, this small park provides a picnic area, swings and a slide for local residents, as well as visitors.
Cenotaph Park
Location: Intersection of Bridge and Water Street, Lakefield
Centrally located at Memorial Hall, this is an ideal resting area while shopping or enjoying the Lakefield Millennium Trail. The flower gardens are provided and maintained by the Lakefield Horticultural Society.
Chemong Park
Location: 722 Hatton Avenue, Bridgenorth
Located in Bridgenorth along Chemong Lake where residents and visitors can enjoy over nine acres of wooded parkland with amenities such as a walking trail, scenic vistas, gardens, and historical information signage.
Douglas Sports Centre
Location: 2 Hague Boulevard, Lakefield
This complex spans 10 acres of active and passive recreation space. Douglas Sports Centre provides one lit ball-diamond a surplus of open space, tennis courts/pickleball court with bleachers and concessions.
Robert E. Young Recreation Complex
Location: 553 Ennis Road, Ennismore
This complex is the Township's largest recreation facility with nearly 42 acres of recreation space. The Complex boasts one lit softball and one unlit hardball diamond, two full-size soccer pitches, two mini soccer pitches, ice pad, playground, basketball court, tennis courts/pickleball court and a fitness trail with five fitness stations. Other amenities include a tractor pull track, bleachers, picnic tables and a water fill-up station.
Isabel Morris Park
Location: 20 Concession Street, Lakefield
This two acre park is located adjacent to the Lakefield-Smith Arena and provides a view of Otonabee River. There is a pavilion, a picnic area, skatepark and a playground. The park is also the site of several community events.
Paul J. English Chemung Lions Park
Location: 710 Red Pine Lane, Bridgenorth
Offers over 15 acres of recreation space. This park provides a number of active recreation opportunities in addition to passive open space, including a lit ball-diamond, two new ultimate frisbee fields and playground. Other associated park amenities include two pavilion shelters and gardens.
Selwyn Skateboard Park
Location: 20 Concession Street, Lakefield
The Selwyn Skateboard Park is located in Isabel Morris Park in Lakefield. The park features one half-pipe, 4 quarter-pipes, 'rails' and 'grind boxes'; and is suitable for skateboarders, BMX bikers, scooter users and inline skaters. Access to the skateboard park is available at no-charge and promotes healthy active living to our residents and visitors.
Woodland Acres Park
Location: 242 Woodward Avenue, Peterborough
This new community park includes a trail connecting the Woodland Acres subdivision and the newly developed Summer Lane subdivision, shade structure with seating and a playground. The new play structure includes a variety of features such as a fully accessible swing suitable for children with mobility issues, two slides, a climbing wall and various overhead climbers.
Trails
Trails have the ability to strengthen the local social fabric of the community. They tend to create a continuity of volunteers and opportunities for friendships, networking and exploration. Trails bring people together to share social values while participating in meaningful activities.
For more information on our trail networks and volunteering opportunities, visit our Trails page.
Current Trail Networks
B.E.L Rotary Bridgenorth Trail
Located on the unopened road allowance between Brumwell Street in Bridgenorth and the 5th Line of Smith, the B.E.L. Rotary Bridgenorth Trail is 2.3 kilometres long, lined with native trees, and boasts a peaceful and tranquil setting amidst the Miller Creek Wetlands. There are benches situated along the Trail to provide scenic and comfortable resting spots as needed.
Trail heads located at Brumwell Street and the 5th Line feature parking, and a large trail map that identifies local points of interest.
Users are expected to police their dogs and the Peterborough Humane Society enforces municipal by-laws regulating Dogs Running at Large and Stoop & Scoop; appropriate phone numbers will be posted along the trail.
Ennismore Fitness Trail
Location on Google Maps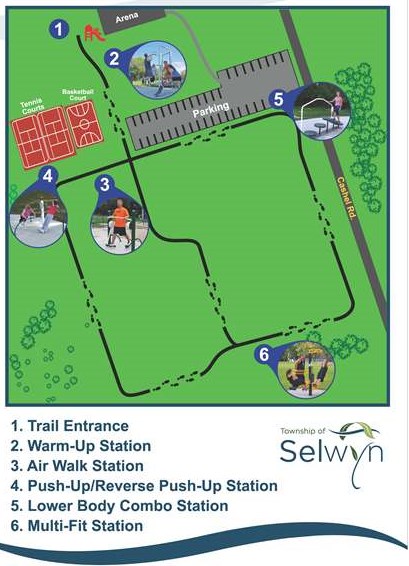 Located at the Robert E. Young Recreation Complex in Ennismore, the outdoor trail features 1,150 metres of gravel trail and five fitness stations, making it suitable for many ages and abilities.
Access to the outdoor fitness trail is available at no-charge and promotes healthy active living to both the residents and visitors of Selwyn Township, from children to seniors.
Ennismore Heritage Trail
Location on Google Maps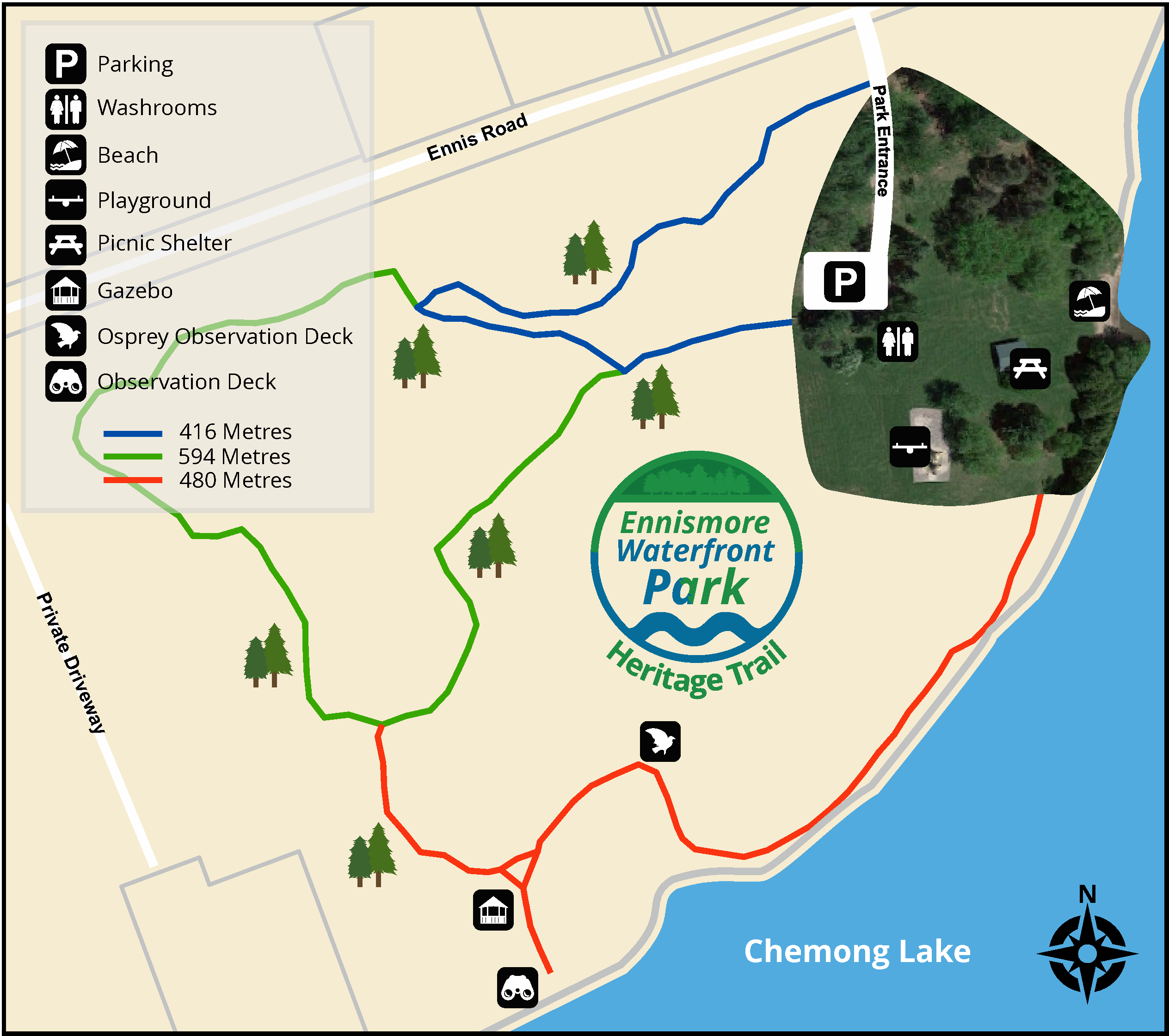 Located within Ennismore Waterfront Park, the three loops of the Ennismore Heritage Trail make up a total distance of approximately 4 kilometres and includes boardwalks, picnic shelter and osprey platform. Interpretive signage will guide you through a variety of natural settings and regional points of interest. Trail parking is available during daylight hours until November 15th.
Lakefield Trail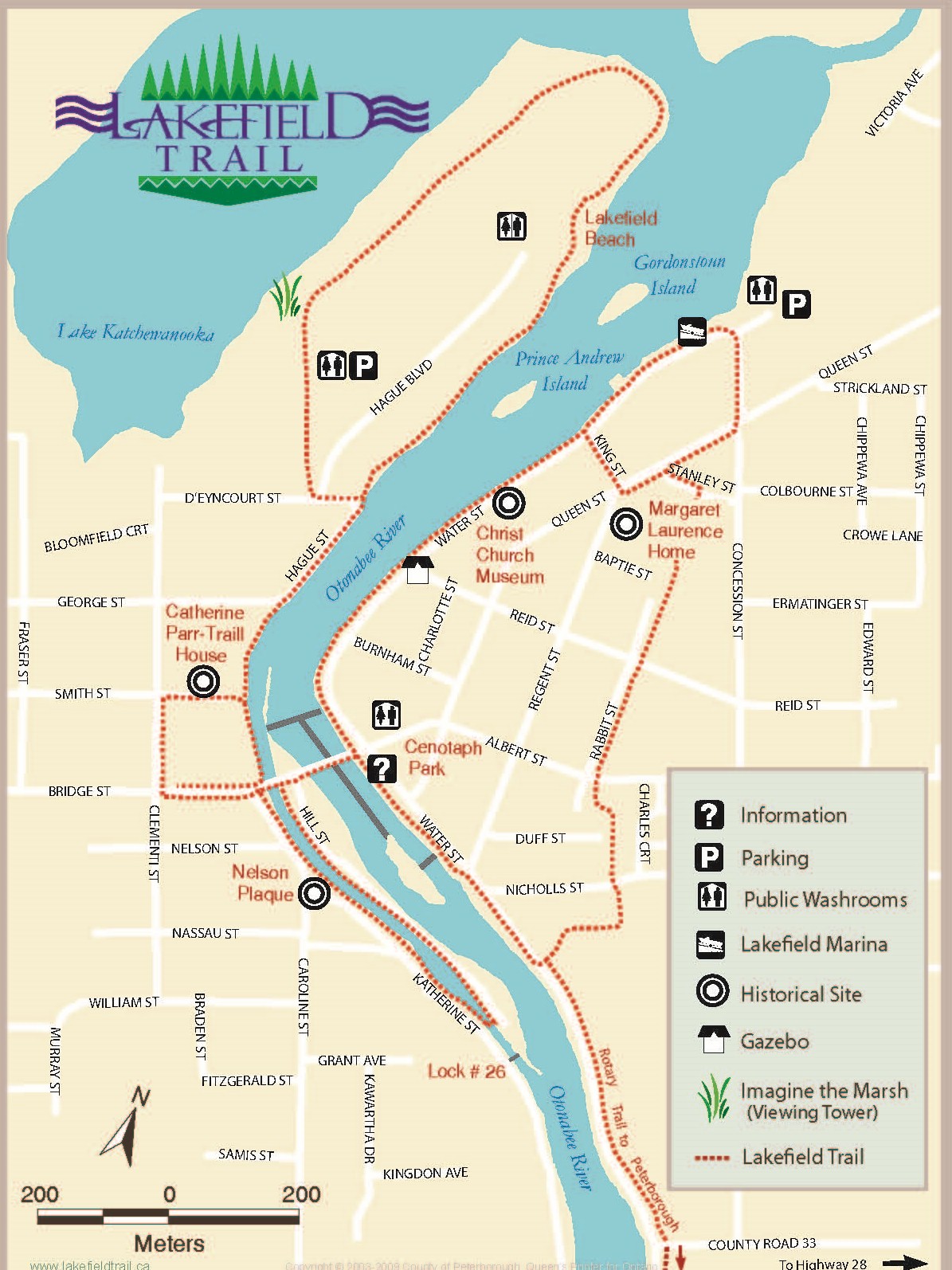 Established in late 2000 as a community Millennium project, the Lakefield Trail is a 5.5 kilometre trail which, after meandering through the Village of Lakefield, connects to the Trans Canada Trail via the Rotary Greenway Trail in Peterborough.
Andrew Trail
The quaint 450 metre trail is beautifully situated in the Smith Ward connecting the communities of Eastwood Road and Andrew Avenue. Formalized in 2018, the screened and levelled trail creates an easy and comfortable terrain for any participant.
Fairbairn Trail
This 1.2 kilometre picturesque trail provides a serene setting among the native trees and charming birds. Accessible year-round, the trail has entrances off of Lindsay Road and the 5th Line and includes parking at both trail head locations.
This section is phase one of the Fairbairn Trail and was completed in early 2019. Once all three phases are completed, the trail will connect Bridgenorth to the City of Peterborough.
Miller Creek Wildlife Area Trail
Hike or walk the 1.5 km of trail through meadows and tall grasses to an observation point overlooking the Miller Creek Wildlife Area. This location is excellent for bird and amphibian watching. Various side trails will take you on a continued one kilometre loop through wooded areas within the Provincial Wetland.
The Miller Creek Wildlife Area is managed by Otonabee Conservation. For more information, visit the Otonabee Conservation website.
Selwyn Conservation Area Trail
Located on the north-east shore of Chemong Lake, this 71 acre property offers a natural relaxing outdoor recreation experience. The trails pass through a variety of habitats such as woodlands, wetlands and open fields. This gives visitors a chance to discover a variety of plants and wildlife in their natural environments.
The Selwyn Conservation Area is managed by Otonabee Conservation. For more information, visit the Otonabee Conservation website.
Trail Etiquette
When using any trail for hiking, cycling, or any other activity you enjoy on the trail, remember that a winning trail attitude includes safety, respect and relaxation. Always share a smile and a quick "Hello" with those you meet on the Trail.
Always:
Leave the trail cleaner than you found it
Respect the permitted uses on the trail you plan to use
Stay on the marked trail. Do not make new trails
Keep pets leashed and pick up after them
Use garbage receptacles where they are provided, otherwise carry out your litter
When stopping for a rest, move to the side of the trail
Respect trail closures
Resources
Contact Us