There are many green initiatives that are on-going in Selwyn Township that benefit the environment and our community. Each initiative aligns with Selwyn's Climate Change Action Plan and help to reduce Greenhouse Gas (GHG) emissions.
Greenhouse Gas (GHG) Emissions
Between 2011 and 2017, Selwyn Township reduced its GHG emissions by 65%, check out how:
Green Event Policy
Our Green Event Policy supports event organizers in making sustainable choices when planning an event.
If you are planning a green event, we encourage you to keep the Township updated so we can recognize your efforts.
Green Fleet Strategy
Selwyn Township received funding from the Federal Government to lease a Plug-in Hybrid Electric Vehicle and install a Level 2 CoRe+ charging station at the Selwyn Township Municipal Office.
This project is an effort to raise awareness of the environmental and economic benefits of electric vehicles and reduce the carbon footprint of the Selwyn Township fleet.
Closing the Loop on Food and Organic Waste
In September 2019, Lakefield District Public School was awarded funding from TD Friends of the Environment Fund for a food and organic waste reduction and diversion project. This project has changed how students, teachers and their families think about food waste.
The project included:
food waste audits
diverting food scraps through vermicomposting, traditional composting and digesters
educational programming on food waste reduction, seed ordering and garden planning
using the compost generated to plant vegetable and pollinator gardens.
Project partners included Selwyn Township, Nourish Lakefield Community Garden and the Peterborough Master Gardeners.
Clear Garbage Bag Program
Selwyn Township has launched a Clear Garbage Bag Program with enforcement effective September 1, 2021.
Clear garbage bag programs are shown to help divert recyclable material from landfills and encourage residents to be more mindful of their waste habits.
"The Link" Rural Bus Service
"The Link" Rural Bus Service will help reduce the number of passenger vehicles on the road and the pollutants they emit into the environment. Township staff will be tracking ridership to determine approximate GHG emission reductions achieved through the availability of a public transportation program.
Solar Panel Installation
This initiative involved the installation of solar panels on some municipal building rooftops. The links below provide detailed read-outs on these systems:
Selwyn Township Energy Consumption Data
Energy Management Plan
LED Lighting Project
As part of the Township Energy Management Plan, the Township converted all traditional streetlights to LED.
Electric Vehicle (EV) Charging Stations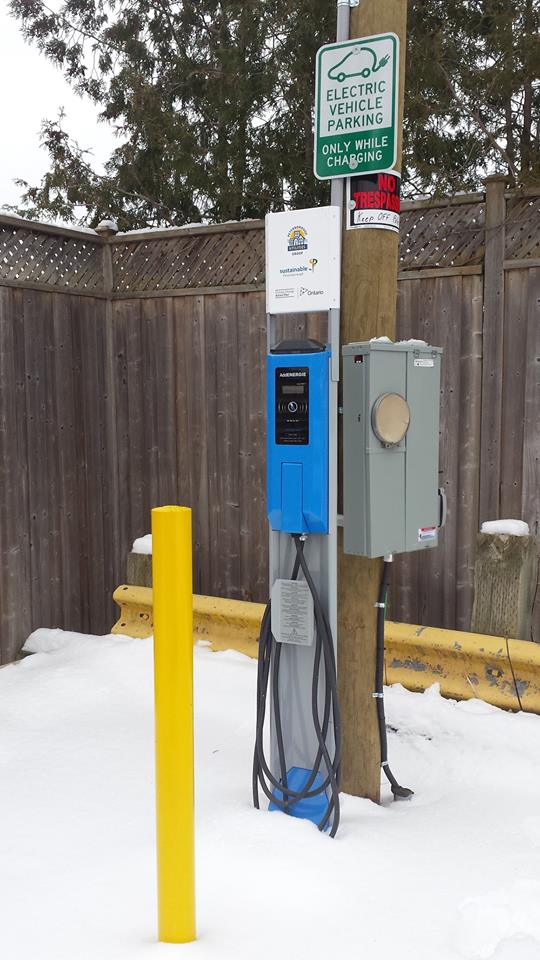 Lakefield
Location: Municipal parking lot beside The Village Inn of Lakefield
This is a Level 2 CoRe+ charger with applicable charge rates.
Municipal Office
Location: 1310 Centre Line, Selwyn
This is a Level 2 CoRe+ charger
The charger is free for public use from Monday to Friday, between the hours of 8:30 AM and 4:00 PM, until September 2021.
Selwyn Township received funding from the Federal Government to install a Level 2 CoRe+ charging station at the Selwyn Township Municipal Office.
How to Use the FLO Network?
Using the FLO Network App (can be downloaded for free from the Google Play or App Store)
Using a FLO Network card (users must order the cards in the mail ahead of time for a cost of $15)
Calling the toll-free number, 1-844-825-3356, found on all units. This number connects to a 24/7 line serviced by CAA.
See FLO Tip Sheet
All charging stations are listed on several map databases. Every Electric Vehicle (EV) comes with its own charging station finding app plus the following open networks including:
Sustainable Peterborough
Sustainable Peterborough has developed a Climate Change Action Plan for the Greater Peterborough Area. The Climate Change team is currently transitioning from planning to implementation.
Conservation in Action
Otonabee Conservation has produced an information sheet "Conservation in Action: Township of Selwyn" which highlights conservation activity in our municipality.
Resources
Contact Us