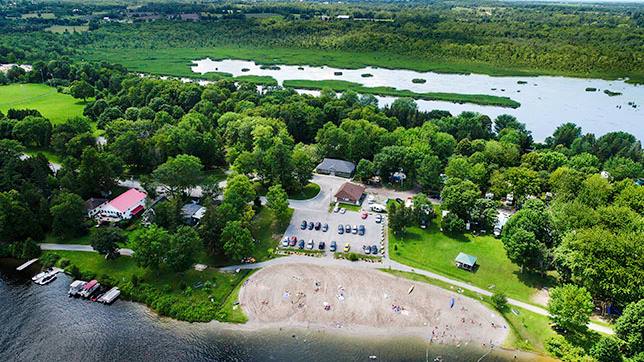 Hague Point and the Lakefield Campground have provided residents and visitors of Selwyn with an opportunity to enjoy the outdoors for generations. The Township owns the lands and has contracted a private operator to manage the campground over the past 25 years. In 2020, a Service Delivery Review examined ways for the Parks & Recreation Department to modernize and operate more efficiently; the Review recommended that the Township re-evaluate its role in the campground business and the operating agreement since a considerable financial investment will be needed to replace aging campground infrastructure.
As a result, the Lakefield Campground Utilization Study is being carried out. The Study will look at best practices and trends in the camping industry, seek input from the public, and investigate the following options for the Township to consider for the Lakefield Campground:
Continuing to outsource day-to-day management of the campground to a private sector operator;
Investigating the interest of the Otonabee Region Conservation Authority to manage the campground on behalf of the Township (ORCA has an agreement with the City of Peterborough to manage the municipal campground there);
Having the Township's Parks & Recreation Department manage the day-to-day operation of the campground; and
Getting out of the campground business and converting the land to public open space.
---
Lakefield Campground Utilization Study
General Timeline
Background (February 1 to March 31, 2021)
review background materials (current agreement), data collection, financial information, trends and best practices, current infrastructure needs and improvements. Initial findings report prepared by end of March.
Public Engagement (mid-April to mid-May 2021)
On-line survey available to all (public, campers, businesses etc.) to obtain input on the initial findings report with five (5) possible options.
Key Stakeholder/Community Partner engagement with 10 key informants, including current Campground Operator, Otonabee Conservation (ORCA), other Campground Operators (including municipally-managed), Kawartha Chamber of Commerce & Tourism, Imagine the Marsh, Lakefield Trail Stewardship Committee, Parks and Recreation Advisory Committee and the Economic Development & Business Committee.
Visioning Session with Council: special Council meeting to review the background information, community feedback relative to the five (5) options and consider refining the options to 2 or 3 for more in-depth review.
Preparation of Draft Report (June to mid-July 2021)
Prepare draft report and recommendations and present to Council for feedback
Public Information Session to obtain feedback on the refined options
Present Final Draft Report to Council at Regular Council Meeting
Provide Your Input!
Your input can help us understand the priorities that the public places on services such as municipal campgrounds, parkland and natural areas. Here is how you can have your say:
Complete the Community Survey. The survey will be open until April 30, 2021.
Ideas and comments can be emailed to tjacobs@selwyntownship.ca or directed to the Township Offices (see below for address).
The Lakefield Campground Utilization Study is scheduled to be completed by Summer 2021. If you have any questions or would like more information about the Study, please contact:
Tiffany Jacobs, Administrative Assistant - Parks & Recreation
Email: tjacobs@selwyntownship.ca
Tel: (705) 292-9507 ext. 243
Physical Address: 1310 Centre Line, Selwyn, Ontario, K9J 6X5
Mailing Address: P.O. Box 270, Bridgenorth, Ontario, K0L 1H0
Contact Us