The Selwyn Fire Department consists of 5 Fire Halls, 88 volunteer firefighters, including 4 full-time staff members, 8 Pumper Trucks, 1 Tanker Pumper, 5 Rescue Units, 2 grassfire/water source ¾ ton trucks, 3 Rescue Boats, and two 60 Kilowatt mobile generators.
Personnel respond to an average of 1150 emergency calls a year over a large geographical area that is mostly rural. Strong fire prevention and education programs are in place to help protect life and property in the Township.
Burn Ban Status
No Burn Ban in Effect!

As of July 1, 2021, there is no burn ban (fire ban) in effect.

Residents can stay current on condition changes by checking here and/or following us on:
Campfires (fire pit or fire container) are not permitted in built areas (Lakefield, Bridgenorth, Ennismore, Young's Point, and Woodland Acres)

There is no permit required for campfires (fire pit or fire container)

A 1:10 "ratio for fire safe distance" must be established. For example, a fire measuring 2 feet in diameter requires 20 feet of clearance in all directions.

Certified gas-fueled outdoor appliances are permitted throughout the Township of Selwyn, including built-up areas;

Burning of noxious materials, leaves, grass clippings or compost is not permitted;

Burning brush is permitted provided that residents call the Fire Department at 705-292-7282 during regular business hours (Monday to Friday) in advance of burning; and

Open Air Burning is governed by By-law 2021-034 and those burning must comply with the provisions of the By-law.
Open Air Burning - Burn Permits
Open Air Burning conditions can change at any time. Residents must verify the current conditions prior to burning. To do this, please call the Fire Department at 705-292-7282.
Burn Permits

Burn permits are required for any fire that is not a campfire or outdoor fireplace.

Burn barrels are not permitted in the Township and Open Air Burning (such as campfires and outdoor fireplaces) is not allowed in built-up areas.
For everyone's safety and enjoyment, please ensure that all Open Air fires conform to the Township By-law.
Burn permits can only be issued by the Fire Department at Hall #1 - 833 Ward Street, Bridgenorth. For more information, contact 705-292-7282.
Volunteer With Us
If you are considering becoming part of our dynamic team as a Volunteer Firefighter, the first step is to submit an application form. Being a Volunteer Firefighter can be a very rewarding experience and at the same time, contribute to the safety of the whole community.
Applicants are required to live in the community or within close proximity to either of the fire halls and be a minimum of eighteen years old. Members are required to attend bi-monthly training sessions which are held on the second and fourth Monday of every month.
For more information regarding joining our team, contact the Fire Department at 705-292-7282.
About the Selwyn Fire Department
Fire Department Services
Fire prevention and inspection services
Public education services
Response to all fire types
Emergency medical response - level A
Vehicle accidents and extrications
Ice & Water Rescue
Farm, home & industrial accidents
Public hazards
Hazardous material incidents, awareness level
Search & Rescue
Mutual Aid and Automatic Aid response and Fire Protection Service Agreements
Mission Statement
Members of the Township Fire Department will provide dependable service to municipality in a responsive fashion, while showing care and compassion for those in need.

We will protect lives, property and the environment through fire prevention, public education, disaster preparedness, fire suppression, rescue and medical care.

The members of this department, working together will provide a professional and caring environment that is fair, honest, ethical and that treats all individuals with respect and dignity.

We are here to help.
Vision
It is the vision of the Selwyn Fire Department to be known as a progressive and innovative Fire Department.

Providing the finest in fire, rescue and emergency services by utilizing the best personnel, training and equipment and creating a work environment that promotes the health and welfare of our members.

We will create a commitment to excellence through professionalism, honesty, integrity and respect for our customers and each other.
Fire Halls & Apparatus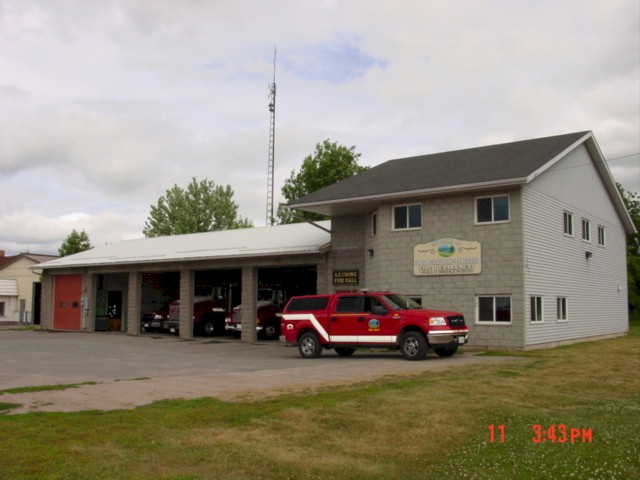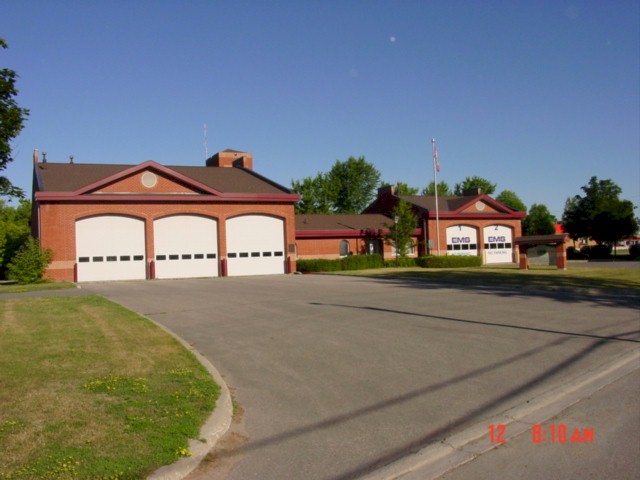 Built 1992
Adjoining EMS Station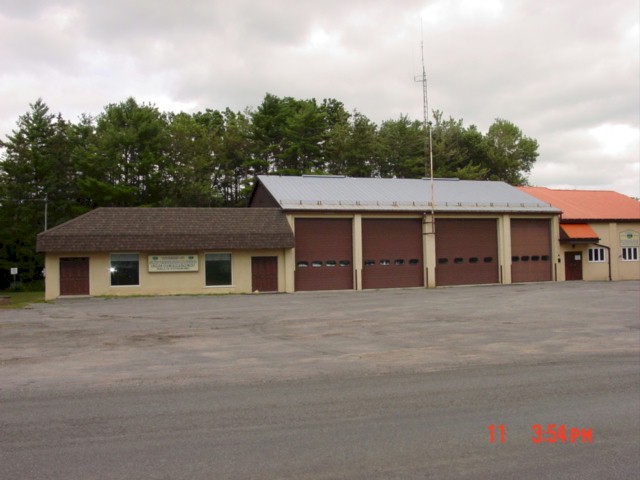 Notice From Health Canada - Consumer and Hazardous Products Safety Directorate
In August 2019, the Office of the Fire Marshal and Emergency Management issued a news release which drew attention to the dangers of ethanol fuel appliances or firepots.
On October 9, 2019, Health Canada issued a notice to interested parties to warn them about the dangers and risk mitigation measures for certain containers of pourable alcohol-based fuels and certain portable firepots that use pourable fuels.
Move Right for the Green Light!
The Selwyn Fire Department wants to remind everyone traveling on our roads, that a flashing green light in a vehicle signifies a volunteer firefighter responding to an emergency. It is common courtesy to pull over to the right and allow them to pass.
Fires - Reduction of Assessed Value
Have you experienced the loss of a structure as the result of a fire?
In order to reduce the assessed value of your property, please complete form 357, selecting "section 357" as the application type and "Razed by fire, demolition or otherwise - 357(1)(c)" as the reason for application. If you have any questions, please contact the finance department.

Barn Fire Prevention
Barn fires can be tragic events for farmers, and the loss of livestock, buildings and equipment can be devastating in many ways.
Approximately 40 per cent of all barn fires are caused by faulty electrical systems, which is one of the leading causes of barn fires.
Regular inspections and maintenance are key to reducing the risk of a barn fire.
For more information, visit the Ministry of Agriculture, Food and Rural Affairs website.
Water Tanker Shuttle Service Accreditation
The Water Tanker Shuttle Service test is administered by Fire Protection Survey Services staff. To achieve the accreditation the Fire Department must be able to:
Within 5 minutes of the first apparatus (pumper) arriving on the fire scene (test site), be flowing a minimum of 200 gallons per minute of water and
Maintain the flow uninterrupted for two hours
The test site must be within 8km of a fire station and must be at least 5km from the location where the tankers are reloaded.
As a result of successfully completing the test, the Township of Selwyn Fire Department was given the following rating:
"Water Tanker Shuttle" listing for Residential properties
"Water Tanker Shuttle" listing for Commercial properties
We achieved 1887 liters/minute (415 GPM)
Homes within 8km and Commercial properties within 5 km of any of our fire halls have the opportunity for a reduction in insurance premiums. Residents must check with their insurance company as some do not recognize the superior tanker shuttle certification.
Successfully completing the test, regardless of the potential impact on insurance rates, indicates that the Township of Selwyn Fire Department demonstrated an ability to effectively transport water to fire scenes throughout our community.
Check the Fire Protection Survey Services website for our listing under tanker shuttle list.
Contact Us
Township of Selwyn Fire Department
833 Ward Street
PO Box 270
Bridgenorth, ON K0L 1H0
Tel: 705-292-7282
Fax: 705-292-8634
Email: fire@selwyntownship.ca
Contact Us