Art Display
Bridgenorth Library Art Display - February
Drop by the Bridgenorth Library during open hours, and enjoy art by artist Nancy Roberts (Acrylic on canvas)
"Impressionistic painting has helped me define the moods of nature whether painting the sea, marshes, forests, skies, wide rolling landscapes, or structures. This makes the paintings more lively, dramatic, and realistic. I also enjoy the textures and many other elements of abstract art as well." - Nancy Roberts.
---
Submission Information
We exhibit two-dimensional framed works including paintings, drawings, mixed media, photographs and prints at the Bridgenorth Library.
Submissions are currently closed.
The Selwyn Public Library Art Display policy and Call for Entry form are available for review bellow and at the Bridgenorth Library.


Please contact Heather Jamieson at 705-292-5065 or email Heather for more information or to submit the completed Call for Entry form.
BIG Screen Movie Night
Movie: The Banshees of Inisherin
Wednesday, February 15, 7:00 p.m.
Suggested donation of $2.00 for admission. Free popcorn!
Register for February Movie Night

Book Bag
Would you like the library to put together a mystery book bag for you?
Each book bag will include 4 books based on the genre or author you select.
Available at all three library locations.
Book Club
Bridgenorth Book Club:
Second Monday of the month at 10:00 a.m.
Bridgenorth Book Club is currently full, but take a look at their
Book List
.
Ennismore Book Club:
Once a month, Monday morning at 11:00 a.m.
Ennismore Book Club Book List.
To register for the Ennismore Book Club, email Sarah Jones or call 705 292-8022.
*NEW* Genre Book Club
A book club to meet other like-minded folks who love reading. Each month we discuss a different genre. Drop-in to share a favorite book or series, get recommendations, or explore something new.
2nd Thursday at the Lakefield Library. 6:30-7:30 pm. Drop-in. All Welcome.
February 9th – Romance
March 9th – Sci Fi & Fantasy
Home Library Delivery
The Selwyn Public Library and Community Care Chemung are offering Home Library Service. This service provides delivery of library materials to homebound persons residing in Bridgenorth and Ennismore.

For more information please contact Sarah Jones, Ennismore librarian, at 705 292 8022.

Home Library Service Application

Simply complete the form and submit it. We will contact you once it has been received.
Indigenous Resources
The Selwyn Public Library has materials for all ages to learn more about Indigenous history, including the Indian Residential School experience, and the ongoing Truth & Reconciliation process.
View our Indigenous Resources web page.
Monthly Mending
Bring in an item that needs mending, and our sewing expert from The Sewing School in Peterborough will help you out!
Sewing machine, tread, and basic supplies provided. No cost, donations welcome.
SPL Makerspace.
Next meeting date TBD.
Needlework Group
The Needlework Group with the Makerspace is a place and time to gather, work on independent projects, socialize, and support each other.
Knitting, crochet, and cross-stich welcome.
Note: no formal teaching is being provided.
Needlework Group will run:
First Tuesday of the month 6:00 - 8:00 p.m. (drop-in)
First Wednesday of the month 10:00 a.m. - 12:00 p.m. (drop-in)
NO JANUARY MEETING.
SPL Makerspace. 1 Bridge St., Lakefield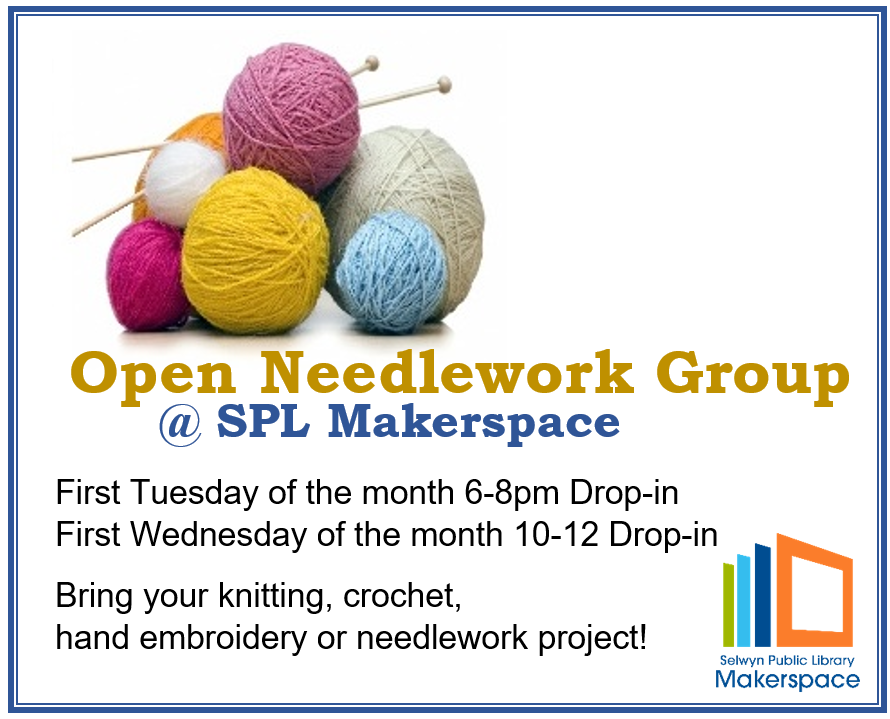 SPL Makerspace
To view the full list of Makerspace programs, please visit the SPL Makerspace page.
Selwyn Tech Topics: Instructional Videos
In an effort to keep offering tech workshops and support, the library is now offering Selwyn Tech Topics. Instructional videos that can be viewed on YouTube, without an account, as many times as you like!
If there is a topic you'd like to see as a video, please email Heidi.
Technology Help
Need some assistance with your device? One-on-one technology help is now available. Book your time in advance by phoning your local branch.

Lessons are available on the following days:
Mondays in Bridgenorth (705-292-5065)
Alternating Wednesdays and Saturdays in Ennismore (705-292-8022)
Thursdays in Lakefield (705-652-8623)
Contact Us