Selwyn Township is committed to fostering a healthy, engaged and connected community. Trail development is one way to promote and encourage a healthy lifestyle and to connect community members to the natural beauty in our Township.
Trails have the ability to strengthen the local social fabric of the community. They tend to create a continuity of volunteers and opportunities for friendships, networking and exploration. Trails bring people together to share social values while participating in meaningful activities.
Current Trail Networks
B.E.L. Rotary Bridgenorth Trail
Located on the unopened road allowance between Brumwell Street in Bridgenorth and the 5th Line of Smith, the B.E.L. Rotary Bridgenorth Trail is 2.3 kilometres long, lined with native trees, and boasts a peaceful and tranquil setting amidst the Miller Creek Wetlands. There are benches situated along the Trail to provide scenic and comfortable resting spots as needed.
Trail heads located at Brumwell Street and the 5th Line feature parking, and a large trail map that identifies local points of interest.
Users are expected to police their dogs and the Peterborough Humane Society enforces municipal by-laws regulating Dogs Running at Large and Stoop & Scoop; appropriate phone numbers will be posted along the trail.
Stewards & Volunteers Wanted!
The Selwyn Parks and Recreation Department maintains the trail with help from the Stewards and Volunteers. If you would you like to volunteer, please contact us at 705-292-9507 extension 243.
The B.E.L. Rotary Club is a much appreciated Trail Stewardship partner! If you are interested in supporting the Trail for on going maintenance, upgrades and general promotional activities, please consider making a financial contribution.
Ennismore Fitness Trail
Located at the Robert E. Young Recreation Complex in Ennismore, the outdoor trail features 1,150 metres of gravel trail and five fitness stations, making it suitable for many ages and abilities.
Access to the outdoor fitness trail is available at no-charge and promotes healthy active living to both the residents and visitors of Selwyn Township, from children to seniors.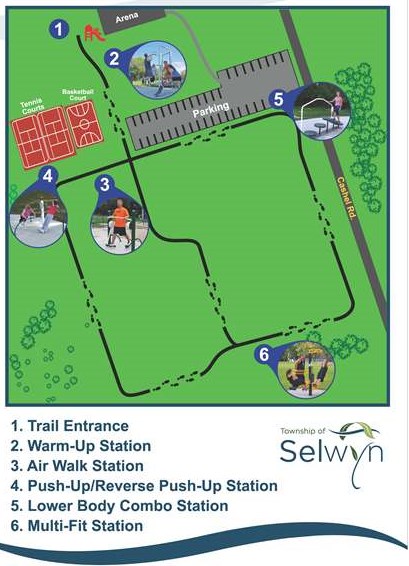 Ennismore Heritage Trail
Located within Ennismore Waterfront Park, the three loops of the Ennismore Heritage Trail make up a total distance of approximately 4 kilometres and includes boardwalks, picnic shelter and osprey platform. Interpretive signage will guide you through a variety of natural settings and regional points of interest. Trail parking is available during daylight hours until November 15th.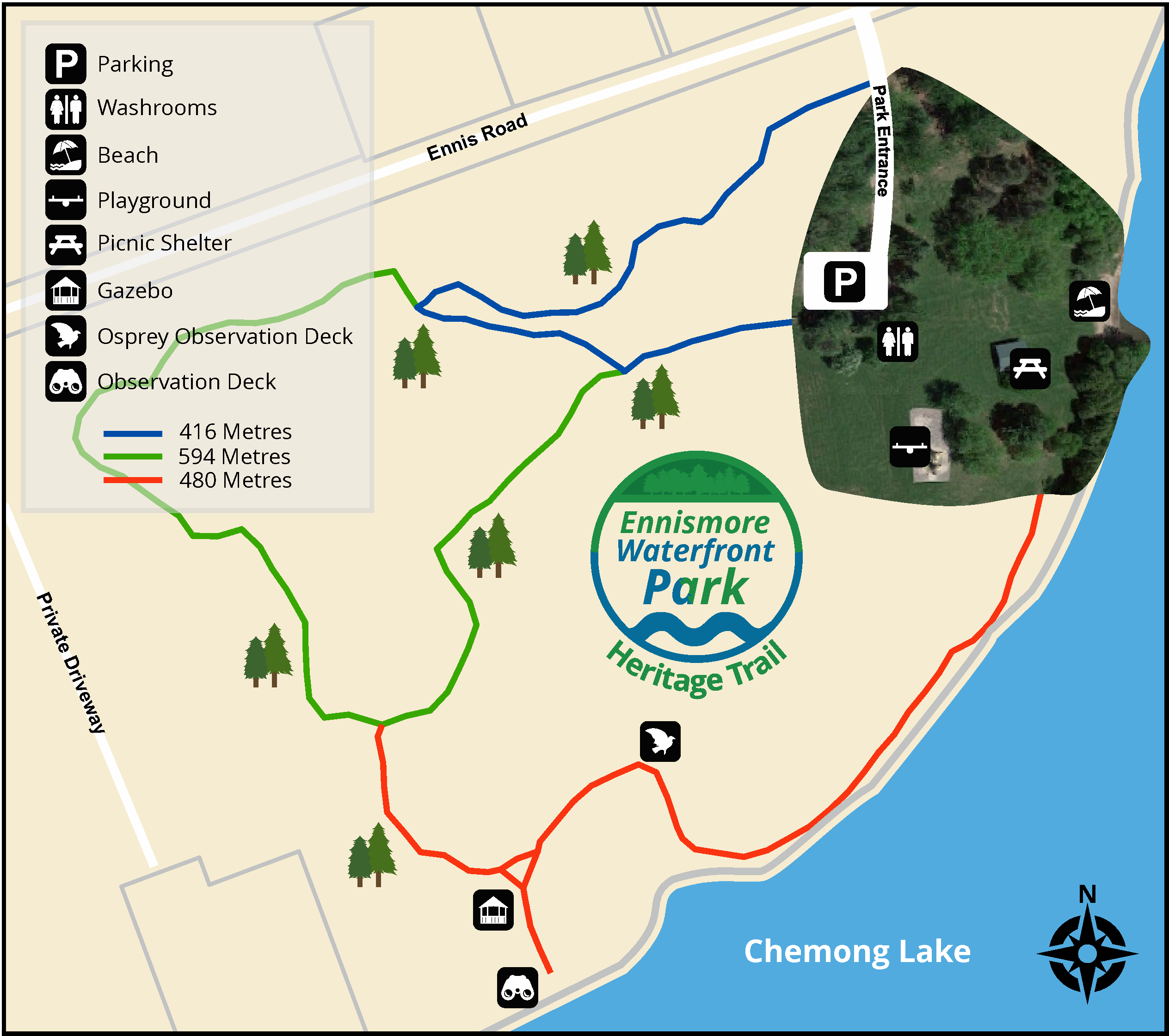 Lakefield Trail
Established in late 2000 as a community Millennium project, the Lakefield Trail is a 5.5 kilometre trail which, after meandering through the Village of Lakefield, connects to the Trans Canada Trail via the Rotary Greenway Trail in Peterborough.
Click for a downloadable map of the Lakefield Trail.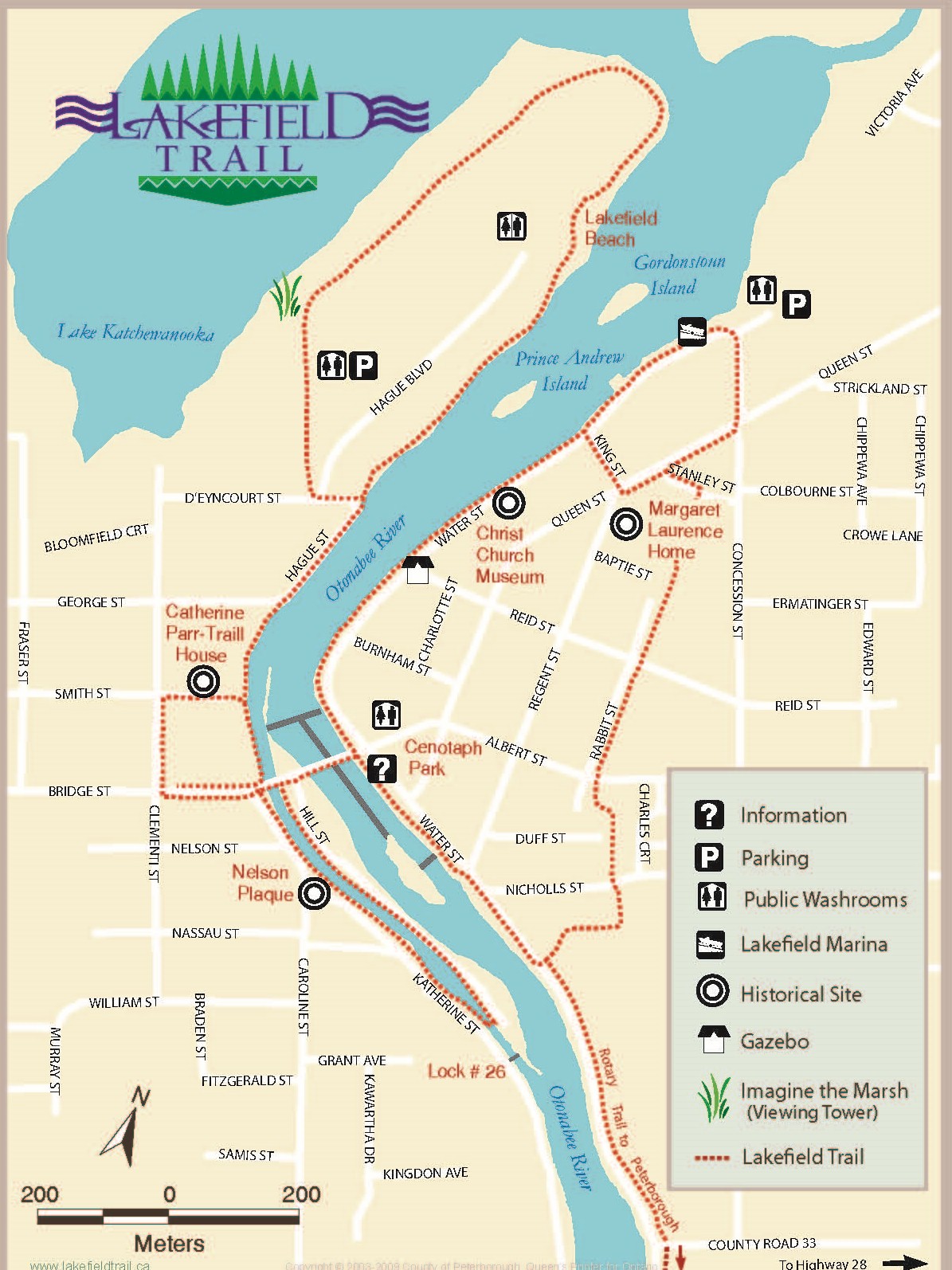 Interactive Trail Map
As you walk the trail you may take a seat and notice a plaque on a bench, or walk past a tree with a plaque place beside it. You may also notice interpretive signs placed around the trail, a total of 14, which give a look into the history of Lakefield. The Lakefield Trail has compiled an interactive map that will allow you to view the location of each bench, memorial tree and interpretive sign. Not only can you view the location, if you click on the colour coded markings you can view a picture.
History of the Lakefield Trail
The Village of Lakefield Special Events Committee was a Council appointed committee with a mandate to coordinate and plan activities to celebrate the Village's 125th anniversary and the new millennium in the year 2000. One of the projects developed by this committee was the development of the Lakefield Trail, a 8.5 km scenic trail network throughout the village. At the time, Peterborough County was building a trail on the rail bed between Trent University and Lakefield and, as a result, our trail is connected to the Trans-Canada Trail.
Fundraising efforts attracted government grants to support the project. Countless hours of volunteer time made the dream of a Lakefield Trail a reality. The Trail was built in phases starting in 1999 and was completed in late 2000.
All sections of the this multiuse trail are fully accessible and Historical interpretive signs along the Trail take you back in time, as they tell the story of Lakefield's notable literary past and canoe building heritage.
Your tour along the eastern portion of the Trail can include a side trip through Lakefield's thriving business section or, for a more natural setting, visit the west side of the Otonabee River as the Trail follows the southern tip of Katchewanooka Lake. Here the Imagine the Marsh Conservation Area section of the trail takes one to the Doug Sadler Viewing Tower, which offers bird watchers an ideal lookout over the vast marshland area. The southwest loop of the Trail passes by stately homes to Lock 26 of the Trent Severn Waterway.
Whether it's a quiet stroll, a leisurely cycle or a more ambitious jog, the Trail provides a place to enjoy all of the diversity the Village of Lakefield has to offer. It provides an opportunity for everyone to get active and 'Do the Trail', no matter what level of activity they are interested in.
Lakefield Trail Friends Program
When you become a Friend of the Lakefield Trail, you have the satisfaction of knowing that you are helping to maintain and sustain the Lakefield Trail for everyone in the community to safely enjoy.
As a Friend of the Lakefield Trail, you will receive a complimentary copy of the Lakefield Trail Newsletter bringing you up to date on all the Trail events and activities.
All donations go towards the maintenance and future enhancements of the Trail.
Maintenance and safety of the Trail is the Lakefield Trail Stewardship Committee's first priority one for the Stewardship Committee.
If you would like to donate to this ambitious project and to ongoing maintenance activities on the Trail, simply print and fill out our Friend Pledge Form and mail it to the Township of Selwyn.
Memorial Bench Program
Benches and trees along the Trail make you feel welcome! They enhance the overall trail experience for everyone. Residents and visitors are invited to sit and enjoy the natural beauty of the area. The Trail isn't just a way to get from here to there, but a place to be; a place to take a moment and reflect on the history of the Village of Lakefield and those who helped make it the vibrant community that it is today.
Many benches and trees have been planted along the trail. The Lakefield Trail Stewardship Committee thanks all those who have donated these enhancements to our Trail.
As you walk the trail you may take a seat and notice a plaque on a bench, this plaque explains who placed the bench there and why; many are to honour a loved one. We have a picture of each bench located along the trail which can be viewed as an interactive map.
When you click on the image showing where the benches are, the map shows a picture of the plaque. So, if you've bought a bench, whether you are from the area or not, you can keep in touch with the bench that you bought for your loved one. As you can see, our waterfront includes many memorial benches. We do, however, have space for additional memorial trees.
Purchase a Memorial Bench
If you wish to mark a special occasion or celebration, to honour someone special or to create a lasting memory of a loved one, you can arrange to have a bench placed along the Trail in his or her name, usually in the location of your choice. A plaque with the donor's name and an inscription is placed with the bench. The benches are of the highest quality, are maintenance free and long lasting.
The Stewardship Committee will install the bench in your chosen location along the Lakefield Trail.
Lakefield Trail Stewardship Committee
Formed in 2001, the Lakefield Trail Stewardship Committee is a group of volunteers who are dedicated to the preservation of the Lakefield Trail. The Stewardship Committee liaises with Selwyn Township's Parks & Recreation Department at the sub-committee level.
The goals of the Stewardship Committee are to:
Organize fundraising activities for Trail maintenance and enhancements,
Promote natural environment education and recreational activities, and
Promote all local and area trails.
The Stewardship Committee meets on the first Tuesday of every month (except July and August), at 5:30 pm in the Centennial Room of Memorial Hall in Lakefield. Meetings are open to the community. If you are interested in joining the Stewardship Committee or sitting in on one of our meetings, they would love to hear from you.
Stewardship & Volunteering
Stewards of the Trail
In addition to the Lakefield Trail Stewardship Committee, many Volunteer Stewards maintain designated sections of the Trail. Our Volunteer Stewards are responsible for litter control and reporting any damage to the Trail, its benches, or trees to the Stewardship Committee.
We currently have a few sections of the Trail that need a Steward's care.
Trail Volunteers
Volunteer and become a part of the Lakefield Trail! This is your opportunity to help share your experiences, be a part of a team, learn new skills and develop lasting friendships. Volunteering for the Lakefield Trail will allow you to choose from a variety of opportunities with various levels of commitment.
If you are interested in supporting the Lakefield Trail as a volunteer, below are some of the opportunities:
Become a Trail Stewardship Committee member. We meet one evening a month in Lakefield.
Assist with general trail maintenance such as litter pick-up, spreading limestone screenings, and carpentry.
Lend a hand at trail events such as the May spring nature walk, the Lakefield Jazz Festival booth, and the August sidewalk sale booth.
Install benches.
Assist with planting, especially at the Trailside Garden this spring.
Lakefield Trail Events
There are no Lakefield Trail Events scheduled at this time. More information will be posted prior to each event in the local media.
If you would like to receive a personal invitation to our special events, please email Parks & Recreation Department with your name and email address. We will add your contact information to our database, which is used for the sole purpose of keeping Trail enthusiasts current on all of our events.
Andrew Trail
The quaint 450 metre trail is beautifully situated in the Smith Ward connecting the communities of Eastwood Road and Andrew Avenue. Formalized in 2018, the screened and levelled trail creates an easy and comfortable terrain for any participant.
Fairbairn Trail
This 1.2 kilometre picturesque trail provides a serene setting among the native trees and charming birds. Accessible year-round, the trail has entrances off of Lindsay Road and 5th Line and includes parking at both trail head locations.
This section is phase one of the Fairbairn Trail and was completed in early 2019. Once all three phases are completed, the trail will ultimately Bridgenorth to Peterborough.
Miller Creek Wildlife Area Trail
Hike or walk the 1.5 kilometre Miller Creek Wildlife Area Trail through meadows, tall grasses to an observation point overlooking the Miller Creek Wildlife Area. This location is excellent for bird and amphibian watching. Various side trails will take you on a continued 1 km loop through wooded areas within this Provincial Wetland.
The Miller Creek Wildlife Area is managed by Otonabee Conservation.
Selwyn Conservation Area Trail
Located on the north-east shore of Chemong Lake, the Selwyn Conservation Area's 71 acres offers a relaxing outdoor recreation experience. The Trail passes through a variety of habitats, such as woodlands, wetlands and open fields, giving visitors a chance to discover a variety of plants and wildlife in their natural environments.
The Selwyn Conservation Area is managed by Otonabee Conservation.
Trail Etiquette
When using any trail for hiking, cycling, or any other activity you enjoy on the trail, remember that a winning trail attitude includes safety, respect and relaxation. Always share a smile and a quick "Hello" with those you meet on the Trail.
Always:
Leave the trail cleaner than you found it;
Respect the permitted uses on the trail you plan to use;
Stay on the marked trail. Do not make new trails;
Keep pets leashed and pick up after them;
Use garbage receptacles where they are provided, otherwise carry out your litter;
When stopping for a rest, move to the side of the trail; and
Respect trail closures.
Recreational Trails Master Plan
Selwyn Township's Recreational Trails Master Plan provides the Township with a long-range strategy for trails and trail facilities. The Plan will explore existing and future trails, as well as identifying linkages with other trail systems.
Trails are designed for recreation activities such as walking, cycling and jogging. They are an inexpensive form of recreation and can provide moderate activity to challenging outdoor adventures. They can provide physical activity for a wide range of people including those with disabilities, children, youth, seniors and others known to be less active.
Communities that have attractive trails have the ability to attract tourists from far and wide. Tourism creates jobs and puts money into the local economies. Trails are a great economic driver as many users will purchase goods and use services in the communities they are located. This means money is being spent in local restaurants, accommodations, retail purchases and day trips. They can also increase home values and offer pleasant viewing, quieter streets, a touch of nature in a community and a variety of recreational opportunities just steps away.
Questions?
Contact the Parks & Recreation Department at 705-292-9507 extension 243 or email the Parks & Recreation Department.
Contact Us