Selwyn Township is committed to fostering a healthy, engaged and connected community. Trail development is one way to promote and encourage a healthy lifestyle and to connect community members to the natural beauty in our Township.
Trails have the ability to strengthen the local social fabric of the community. They tend to create a continuity of volunteers and opportunities for friendships, networking and exploration. Trails bring people together to share social values while participating in meaningful activities.
---
Current Trail Networks
B.E.L. Rotary Bridgenorth Trail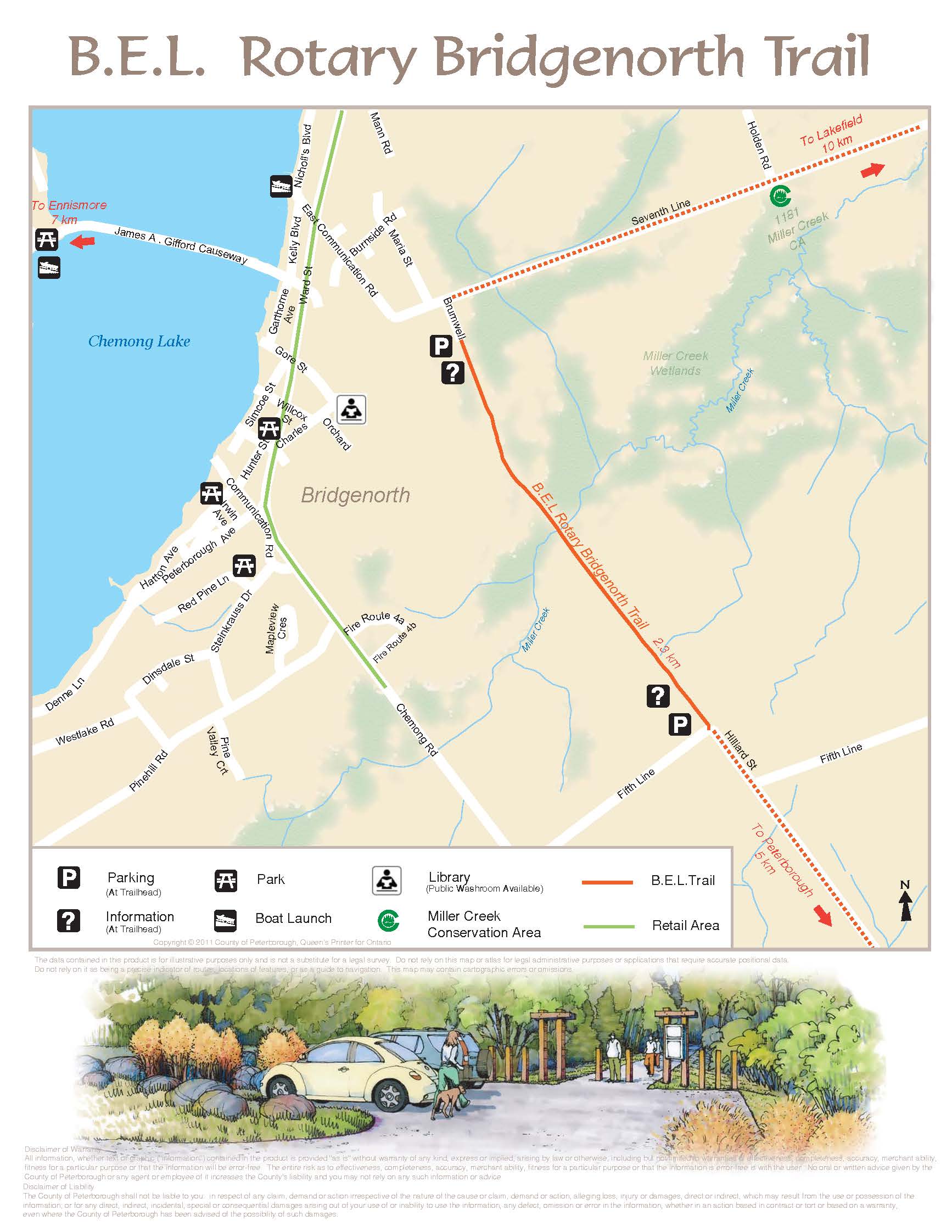 Located on the unopened road allowance between Brumwell Street in Bridgenorth and the 5th Line of Smith, the B.E.L. Rotary Bridgenorth Trail is 2.3 kilometres long, lined with native trees, and boasts a peaceful and tranquil setting amidst the Miller Creek Wetlands. There are benches situated along the Trail to provide scenic and comfortable resting spots as needed.
Trail heads located at Brumwell Street and the 5th Line feature parking, and a large trail map that identifies local points of interest.
Users are expected to police their dogs and the Peterborough Humane Society enforces municipal by-laws regulating Dogs Running at Large and Stoop & Scoop; appropriate phone numbers will be posted along the trail.
Stewards & Volunteers Wanted!
The Selwyn Parks and Recreation Department maintains the trail with help from the Stewards and Volunteers. If you would you like to volunteer, please contact us at 705-292-9507 extension 243.
The B.E.L. Rotary Club is a much appreciated Trail Stewardship partner! If you are interested in supporting the Trail for on going maintenance, upgrades and general promotional activities, please consider making a financial contribution.
Ennismore Fitness Trail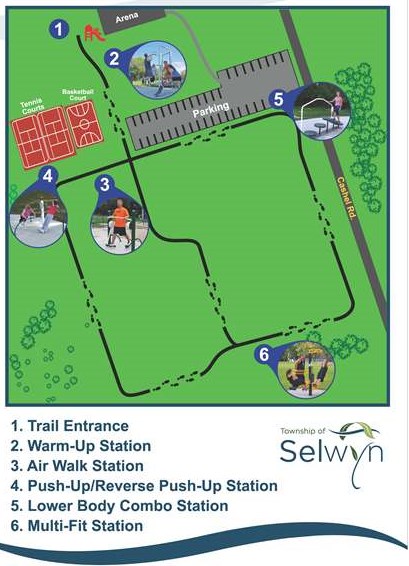 Located at the Robert E. Young Recreation Complex in Ennismore, the outdoor trail features 1,150 metres of gravel trail and five fitness stations, making it suitable for many ages and abilities.
Access to the outdoor fitness trail is available at no-charge and promotes healthy active living to both the residents and visitors of Selwyn Township, from children to seniors.
Ennismore Heritage Trail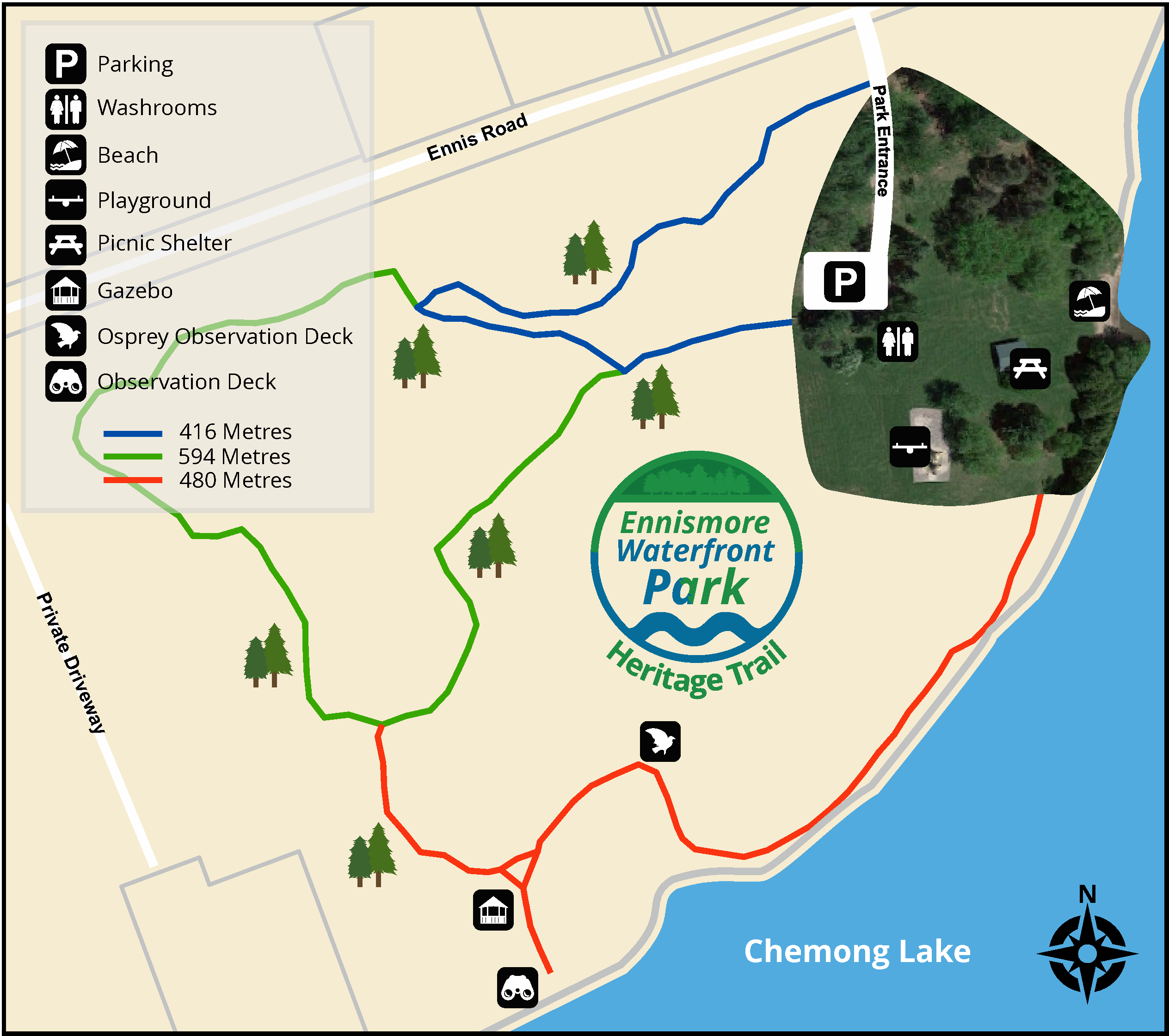 Located within Ennismore Waterfront Park, the three loops of the Ennismore Heritage Trail make up a total distance of approximately 4 kilometres and includes boardwalks, picnic shelter and osprey platform. Interpretive signage will guide you through a variety of natural settings and regional points of interest. Trail parking is available during daylight hours until November 15th.
Lakefield Trail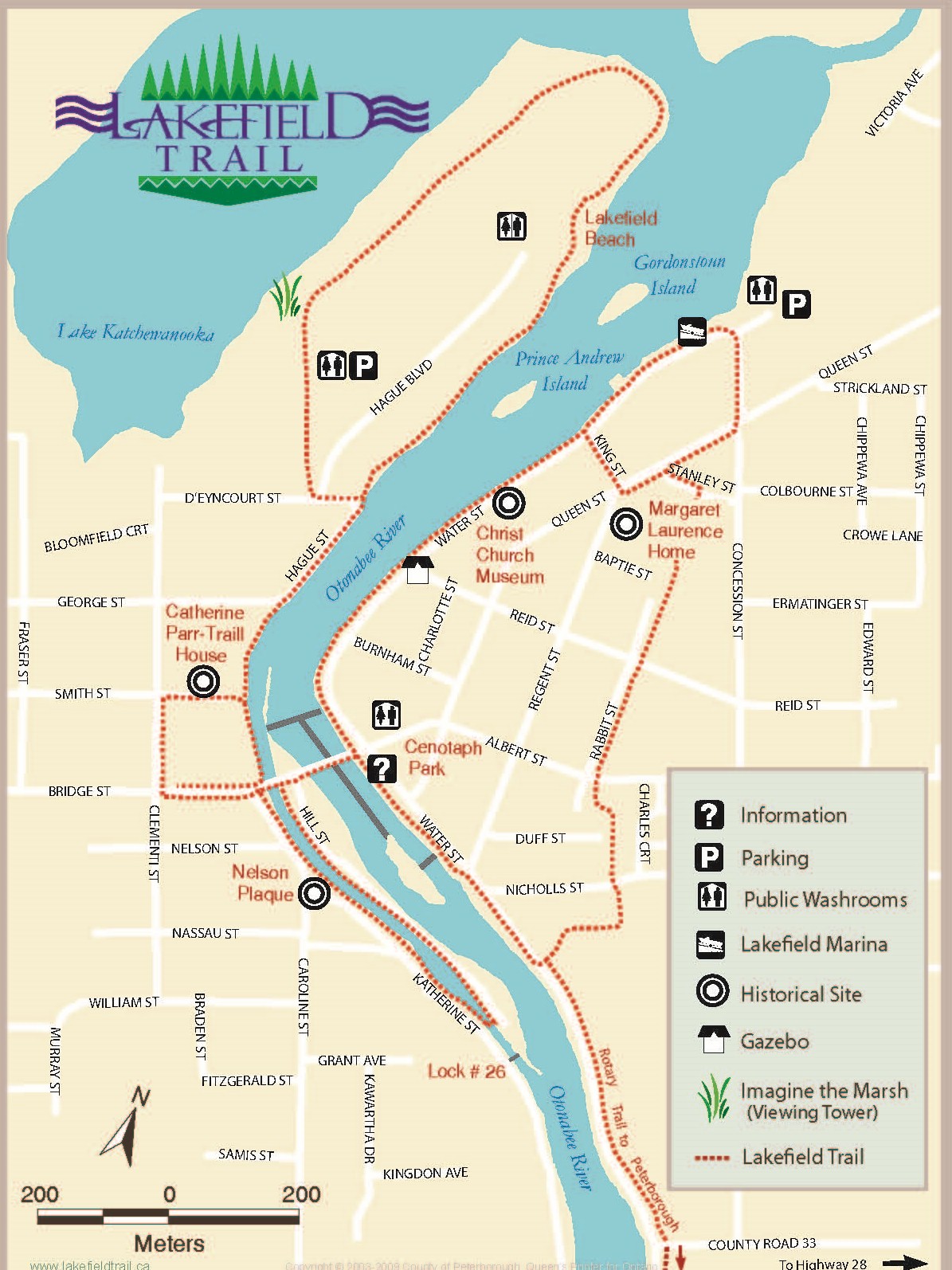 Established in late 2000 as a community Millennium project, the Lakefield Trail is a 5.5 kilometre trail which, after meandering through the Village of Lakefield, connects to the Trans Canada Trail via the Rotary Greenway Trail in Peterborough.
Andrew Trail
The quaint 450 metre trail is beautifully situated in the Smith Ward connecting the communities of Eastwood Road and Andrew Avenue. Formalized in 2018, the screened and levelled trail creates an easy and comfortable terrain for any participant.
Fairbairn Trail
This 1.2 kilometre picturesque trail provides a serene setting among the native trees and charming birds. Accessible year-round, the trail has entrances off of Lindsay Road and 5th Line and includes parking at both trail head locations.
This section is phase one of the Fairbairn Trail and was completed in early 2019. Once all three phases are completed, the trail will ultimately Bridgenorth to Peterborough.
Imagine the Marsh
Imagine the Marsh Conservation Area is located on Katchewanooka Lake in Lakefield, Ontario. It offers visitors a wonderful opportunity for wetland exploration and appreciation. This property was acquired by Otonabee Conservation for the protection under its designation as a Provincially Significant Wetland for source water protection, biological diversity, conservation education, and nature appreciation.
The property was originally acquired with the generous involvement of local citizens, the Imagine the Marsh Committee, and the Otonabee Region Conservation Foundation.
Visitors to this Wildlife Area will enjoy a short hiking trail, interpretive signage, and a two-level observation tower that overlooks the wetland.
Miller Creek Wildlife Area Trail
The Miller Creek Wildlife Area is managed by Otonabee Conservation as a multi-use property providing a scenic location for outdoor recreational activities such as hiking, nature and wildlife viewing, and cross-country skiing. The natural state of the property also provides opportunities for conservation education, nature interpretation, and scientific research. Visitors to this Wildlife Area enjoy the view of the slow and meandering nature of Miller Creek as it flows through a Provincially Significant Wetland, which supports variety of plant and wildlife species.
Selwyn Beach Conservation Area Trail
Managed by Otonabee Conservation, the Selwyn Beach Conservation Area is located on the northeast shore of Chemong Lake and is best known for its excellent swimming provided by a gently sloping sandy beach. The conservation area also offers a boat launch and docking facility, a large picnic shelter, group camping area and hiking trails.
---
Trail Etiquette
When using any trail for hiking, cycling, or any other activity you enjoy on the trail, remember that a winning trail attitude includes safety, respect and relaxation. Always share a smile and a quick "Hello" with those you meet on the Trail.
Always:
Leave the trail cleaner than you found it;
Respect the permitted uses on the trail you plan to use;
Stay on the marked trail. Do not make new trails;
Keep pets leashed and pick up after them;
Use garbage receptacles where they are provided, otherwise carry out your litter;
When stopping for a rest, move to the side of the trail; and
Respect trail closures.
---
Recreational Trails Master Plan
Selwyn Township's Recreational Trails Master Plan provides the Township with a long-range strategy for trails and trail facilities. The Plan will explore existing and future trails, as well as identifying linkages with other trail systems.
Trails are designed for recreation activities such as walking, cycling and jogging. They are an inexpensive form of recreation and can provide moderate activity to challenging outdoor adventures. They can provide physical activity for a wide range of people including those with disabilities, children, youth, seniors and others known to be less active.
Communities that have attractive trails have the ability to attract tourists from far and wide. Tourism creates jobs and puts money into the local economies. Trails are a great economic driver as many users will purchase goods and use services in the communities they are located. This means money is being spent in local restaurants, accommodations, retail purchases and day trips. They can also increase home values and offer pleasant viewing, quieter streets, a touch of nature in a community and a variety of recreational opportunities just steps away.
Contact Us