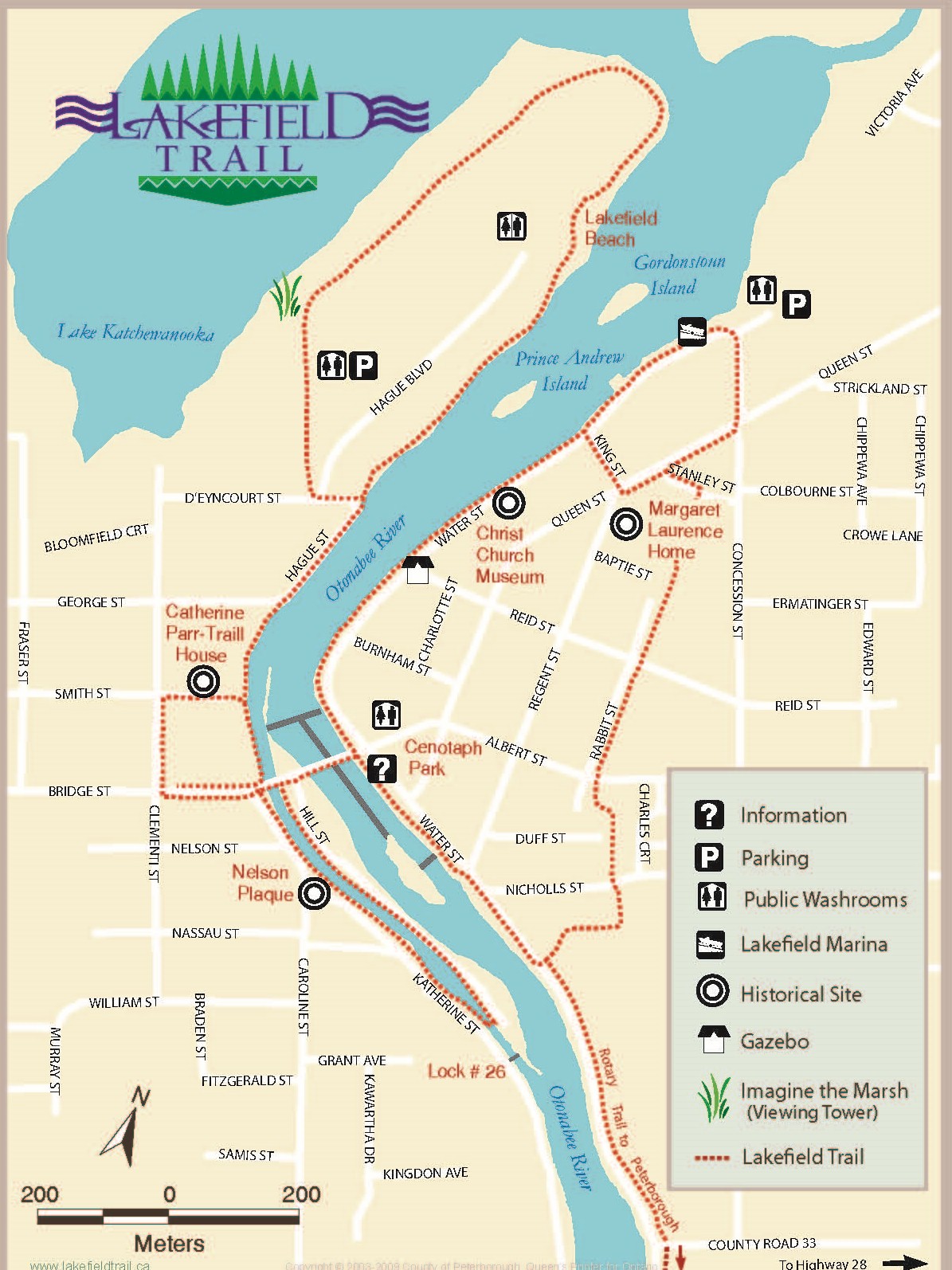 Established in late 2000, the Lakefield Trail is a 5.5 km trail which, after meandering through the Village, connects to the Trans-Canada Trail via the Peterborough County Rotary Trail. All sections of the this multi-use trail are fully accessible with historical interpretive signs that take you back in time, as they tell the story of Lakefield's notable literary past and canoe building heritage.
Your tour along the eastern portion of the Trail can include a side trip through Lakefield's thriving business section or, for a more natural setting, visit the west side of the Otonabee River as the Trail follows the southern tip of Katchewanooka Lake. Here the Imagine the Marsh Conservation Area section of the Trail takes you to the Doug Sadler Viewing Tower, which offers bird watchers an ideal lookout over the vast marshland area. The southwest loop of the Trail passes by stately homes to Lock 26 of the Trent-Severn Waterway.
Whether it's a quiet stroll, a leisurely cycle or an ambitious jog, the Trail provides a place to enjoy all of the diversity that Lakefield has to offer. It provides an opportunity for everyone to get active, no matter what level of activity you are interested in.
History
In 2000, the Village of Lakefield Special Events Committee was a Council appointed committee with a mandate to coordinate and plan activities to celebrate Lakefield's 125th Anniversary and the new millennium.
One of the projects developed by this committee was the development of the Lakefield Trail, a 5.5 km scenic trail network throughout the Village. Fundraising efforts attracted government grants to support the project and countless hours of volunteer time made the dream of a Lakefield Trail a reality! The Lakefield Trail was built in phases beginning in 1999 and was completed in late 2000.
As you walk along the trail, you will notice many plaques alongside trees and benches, as well as interpretive signs that provide you with a glimpse of the history of Lakefield. Using this Interactive Map you can see the location of each Memorial Bench and Tree or interpretive sign along the Lakefield Trail.
Lakefield Trail Newsletter
Check out the latest edition of the Lakefield Trail Newsletter for information on upcoming Trail events and activities.

Contact Us