The Selwyn Fire Department will continue to dedicate time, energy and resources to the continuing education of its community, including the importance of smoke alarms, carbon monoxide alarms and home escape plans.
Through community events and school programming, we provide educational information to all and are happy to answer any questions or concerns that you may have.
The goal of the Selwyn Fire Department is to reduce the number of preventable fires in the municipality by conducting inspections on buildings for compliance with the Ontario Fire Code. Responsibility for compliance with the Fire Code falls on the building owner, and failure to comply may result in prosecution.
Smoke Alarms
Are Your Smoke Alarms Working?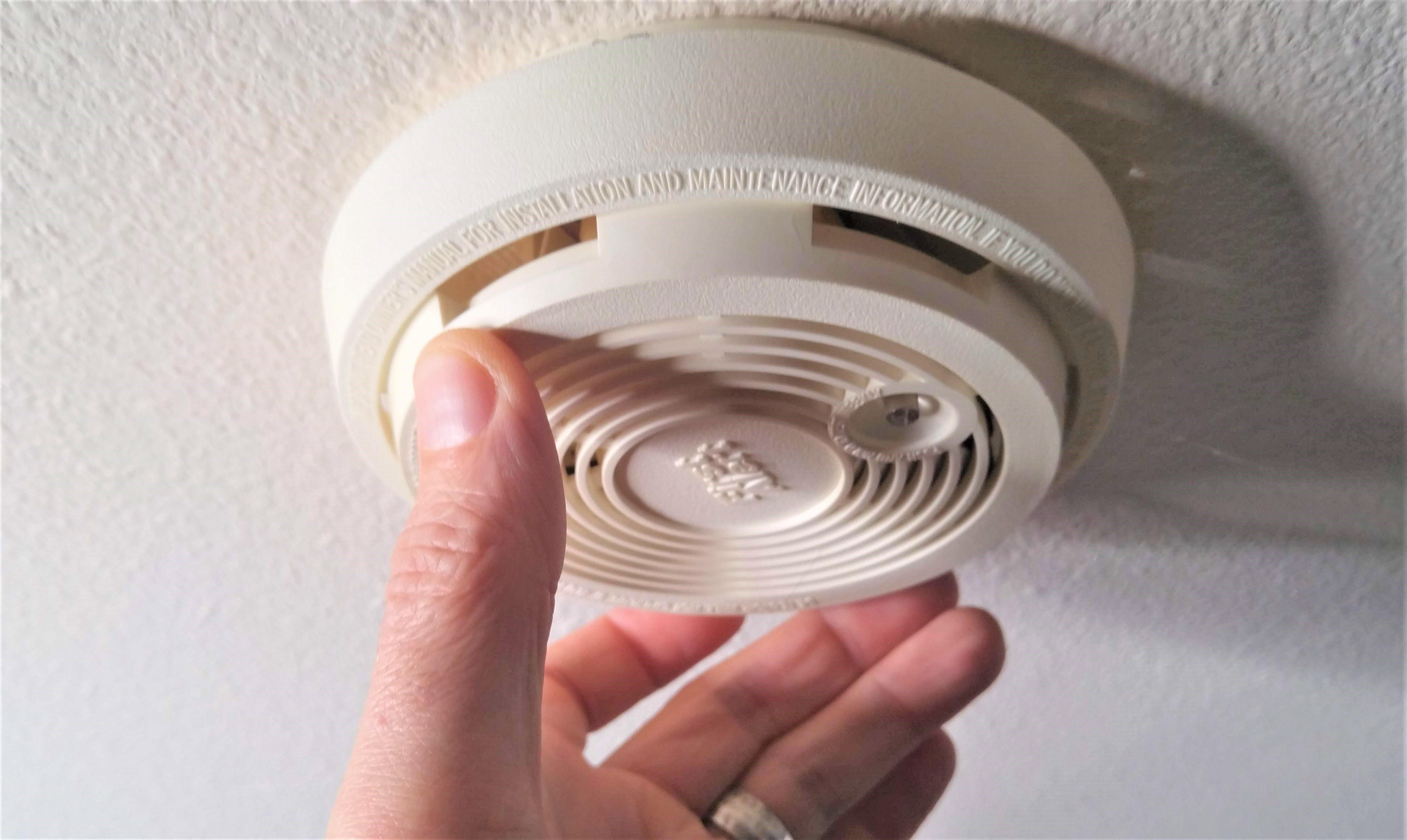 The Selwyn Fire Department urges everyone in the community to take a few minutes to make sure their smoke alarms are working. Too many people are complacent about fire safety, and need to remember there is a one in ten chance of having a fire in their home. With all the plastic and synthetic materials we put in our homes today, fire burns hotter and faster than ever before. You may have just seconds to get everyone out of your home safely.
It's the law in Ontario to have working smoke alarms on every storey of the home and outside all sleeping areas. Yet, all too often the fire service in Ontario responds to fires in homes with no working smoke alarms. Combination Smoke/CO alarms are a great investment if it is time to update your older smoke alarms giving your family the protection they need if you have a fuel burning appliance in your home or an attached garage. Place a CO alarm outside all sleeping areas and on every level of your home. Working smoke alarms provide the early warning of fire so that people have those extra seconds needed to escape a fire emergency.
Locating/Installing Smoke Alarms
Read and follow the manufacturer's instructions carefully.
For best performance, an alarm should be mounted on the ceiling in or near the center of the room, hall or stairway, and at the head of each stairway leading to an occupied area.
Optimum location for wall mounts is at least 15 cm (6 inches) from the ceiling but not more than 30 cm (19 inches) from it.
Avoid installing where the temperature is less than 5oC (41oF) or exceeds 48oC (119oF).
Keep alarms away from doors and windows.
Never locate an alarm in front of an air register, fans or vents.
Keep alarms at least 60 cm (2 feet) from any corner.
Do not recess smoke alarms in walls or ceilings!
Smoke alarms in rooms with ceiling slopes greater than 30 cm (one foot) rise per 2.4 m (eight feet) horizontally should be located on the high side of the room.
Avoid locating an alarm at the peak of an "A" frame type ceiling.
Never paint a smoke alarm.
Keep alarms 60 to 90 cm (two to three feet) away from light fixtures.
When having an alarm connected into the electrical wiring system of a house you should:
Use a qualified electrical contractor.
Never install the alarm in the electrical circuit except at the main panel. Alarms must also never be installed in a circuit connected to an on/off switch.
Check the alarm when installation is complete.
Testing and Cleaning Smoke Alarms
Test your smoke alarm monthly and clean it every 6 months. Mark it on your calendar so that you don't forget. Things to remember when testing your smoke alarm:
Ensure that power is being transmitted to the alarm and that it will activate in the presence of smoke.
Test your smoke alarm by pressing the test button.
Even alarms with a pilot light that indicate power is being transmitted, should be tested regularly.
Battery-operated smoke alarms will warn you when batteries need replacing. Despite this, make it a habit to change the batteries yearly.
When you've been away from home for a few days, check your alarm on your return to ensure it is working properly.
Remember, your smoke alarm can't protect you if the batteries have been removed or a plug has been disconnected.
The lifespan of a typical smoke alarm is about 10 years, but some models last as little as 5 years.
To clean the alarm, open the cover and gently vacuum the interior of it. Frequently, the alarm will sound while the unit is being cleaned.
Carbon Monoxide (CO) Alarms
What Is It: A colourless, odourless and tasteless gas.
Signs: Stuffy air, water vapour, backdraft and soot from a fireplace.
Symptoms: Headaches, weakness, nausea, vomiting and loss of muscle control. They can be mistaken for flu symptoms.
Effects: If inhaled, carbon monoxide deprives the blood of oxygen. Prolonged exposure can lead to unconsciousness, brain damage or death.]
Causes: Blocked or dirty vents, flues, chimneys and furnaces, as well as improper ventilation of burning fireplaces or woodstoves.
Prevention: Annual inspection and cleaning of furnaces, chimneys, fireplaces and other fuel-burning equipment such as gas dryers.
Avoid Carbon Monoxide Poisoning
Install at least one carbon monoxide detector in your home.
Ensure a wood or coal-burning stove is properly installed and vented.
Don't operate a gasoline-powered engine, kerosene stove or charcoal grill in a closed space.
Barbecue grills should never be operated indoors.
Check clothes dryer vents that open outside the house for lint.
Check forced air fans for proper ventilation.
If you suspect carbon monoxide in your home, get out immediately and call the fire department.
Safety Tips
It is law in Ontario to install CSA-approved CO alarms outside sleeping areas.
CO alarms are required by law to be replaced within the time frame indicated in the manufacturer's instructions and/or on the label on the unit. Some new CO alarms offer sealed lithium batteries that last 10 years from activation.
For optimal protection, install additional CO alarms on every floor of the home.
Have a licenced technician inspect your fuel burning appliances annually, (eg. furnace, range, fireplace, water heater) to ensure they are in proper working order and vented correctly.
For families with older parents or relatives, it is wise to help them inspect their CO alarms.
CO alarms don't last forever. They need to be replaced every 7-10 years, depending on the brand.
If your alarm goes off get everyone out of the house, stay out and call 911! Exposure to CO reduces your ability to think clearly, so never delay if your alarm goes off and you sense a problem.
Fire Safety at Home
Room-by-Room
Kitchen
Avoid loose long sleeves when cooking.
Check kettles and toasters for damaged electrical cords and thermostats.
Use appliances that have an automatic shut-off.
Keep a timer handy to remind you when the oven and burners should be switched off.
If you take medication that causes drowsiness, do not use cooking appliances.
Use a temperature-controlled electric skillet or deep-fryer for frying.
Never leave your cooking unattended.
Use appropriate cooking appliances and keep them clean.
Keep a pot cover nearby to "put a lid on it" in the event of a fire.
Living Room
Fireplace: always use a fire screen, ensuring it is the appropriate size for the fireplace opening.
Power bars should not be used to overload electrical outlets. Do not use extension cords in the place of additional outlets.
Smokers should check furniture for fallen cigarettes or embers, which can smoulder undetected for hour before bursting into flames.
Ensure careful use of smoking materials and extinguish in water before disposal.
Never leave cigarettes in an ashtray unattended.
Use ashtrays with a double rim and deep center.
Keep matches, lighters and lit candles out of the reach of children.
Never leave lit candles unattended.
Bedroom
Install at least one smoke alarm outside each sleeping area. For improved safety, install a smoke alarm in every bedroom.
Check electrical appliances regularly in accordance with manufacturer's instructions: electric blankets, heating pads, curling irons, radios, televisions, irons.
Bedrooms should be non-smoking areas.
Basement and Attic
Remove all combustible and flammable materials from the basement and attic.
Do not store gasoline in basements or attics! Store gasoline in well-ventilated areas, preferably outdoors.
Do not store propane indoors.
Use only approved containers to store and transport gasoline.
Have a thorough yearly maintenance check of the furnace carried out by a professional.
When replacing an old furnace, consult a professional to determine the most safe, economical and efficient system for your home.
Chimneys should be cleaned at least once a year.
Garage and Workshop
Flammable materials – thinners, gasoline, paints, and industrial cleaners – should be stored neatly in approved containers and away from possible ignitable sources.
Do not smoke, or leave matches or lighters in the garage or workshop.
Install and know how to properly use the appropriate fire extinguisher for the garage/workshop.
Keep the area clean. Remove garbage, paper products, oily rags and wool
Escape Plan
Statistics reveal that 78 percent of deaths from fire occur in the home, with most of the fatalities taking place between 2 am and 4 am, while occupants are asleep. That is why it is critical to develop an escape plan, because one needs to react quickly since with a fire:
The smoke is black and very thick, making it impossible to see.
There is no time for indecision; an entire home can be engulfed within five minutes.
Most people are killed by smoke inhalation, not the flame of the fire.
The heat of the fire is extremely intense and can kill you instantly.
Develop and Practice a Fire Escape Plan
Install smoke alarms on every level. Keep smoke alarms clean and dust-free, checking them monthly.
Replace batteries yearly and alarms every 10 years.
In order to be able to react quickly to fire, draw a floor plan of your home showing all possible exits from each room.
Where possible, plan two exits: a main route and an alternate route from each room.
Since the majority of fire deaths occur while you are sleeping, you should practice your plan at night as well, getting down on your hands and knees with a flashlight while crawling to safety.
Heavy smoke impairs breathing, which is why staying close to the floor increases chances of escape.
Heat and smoke rise – the air is more breathable and cooler close to the floor.
Make certain that everyone understands that if they hear the smoke alarm, or someone shouting "FIRE", they should immediately evacuate the home.
Designate a meeting place outside your home in the event of a fire.
Small children unable to escape should be taught to open their windows and wave an article of clothing to attract attention. Instruct them to wait at the window until someone comes and to never hide from the fire in places like under a bed or in a closet.
Discuss with a fire department official whether an escape ladder would be appropriate to install.
Sleep with doors closed. If children are frightened, parents can close doors after the children fall asleep and use a room monitor to hear them during the night.
If awakened by a smoke alarm or a fire, instruct family members to feel the door for heat and check air at the bottom. If you don't smell smoke and the air is cool, kneel and open the door slowly, turning your face away from the opening. If smoke is present or the door is hot, use another exit.
Purchase an A-B-C fire extinguisher, whose rating is based on the fuel: 'A' originates from a wood or paper fire, 'B' is caused by flammable liquids and 'C' is an electrical fire. Learn how to use this fire extinguisher by remembering the acronym PASS. Pull the pin, Aim the extinguisher, Squeeze or press the handle and Sweep side-to-side at the base of the fire.
If you live in an apartment building, develop your escape plan taking into account fire escape procedures provided by building management.
Make sure your babysitter understands your fire escape plan.
Practice Your Escape Plan: regular practice is essential so that every family member knows what to do and will be able to react quickly.
If anyone in your home is unable to evacuate without assistance, assign someone to assist them.
Ensure that everyone in your home knows not to re-enter.
Call the Fire Department from a neighbour's home.
Fire Safety Plan Templates
A Fire Safety Plan is required for most buildings. Section 2.8 of the Ontario Fire Code outlines which buildings require Fire Safety Plans and what needs to be included on them. For more information on Fire Prevention and Fire Education please contact Fire Prevention Officer at 705-292-7282.
Protecting Your Cottage
Did you know that you may have less than one minute to escape a burning cottage or home? This is why it is so critical that everyone prepares and practices a cottage or home escape plan, as well as being aware of the requirements for maintaining and replacing their smoke and carbon monoxide (CO) alarms.
Five steps to protect your family and guests:
On day one of cottage season, prepare and practice a fire escape plan ensuring, wherever possible, that you have two ways out of every room of your cottage.
Check the age of all smoke and CO alarms. Immediately replace smoke alarms over 10 years old and CO alarms over 7 years depending on the manufacturer. This is required whether alarms are plug-in, hardwired or battery powered.
Install fresh batteries in all alarms, especially those in cottages that were closed for the winter as cold drains battery power.
The same Ontario law applies in cottages as in permanent homes - working smoke alarms are required on every storey of your cottage and outside all sleeping areas.
Cottages with fireplaces or fuel-burning appliances of any kind (eg. propane or gas stove, furnace, water heater etc.) should have a CO alarm - this is law in many cottage municipalities.
Protecting Your Barn
Barn fires can be tragic events for farmers, and the loss of livestock, buildings and equipment can be devastating in many ways. Approximately 40 per cent of all barn fires are caused by faulty electrical systems, which is one of the leading causes of barn fires. Regular inspections and maintenance are key to reducing the risk of a barn fire.
For more information, visit the Ministry of Agriculture, Food and Rural Affairs website.
Contact Us