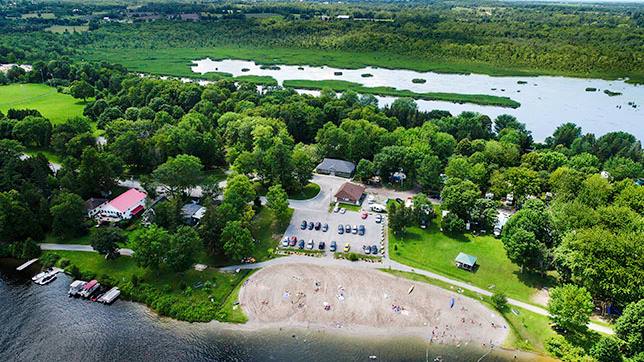 Starting in spring 2023, Lakefield Campground will be operated by Otonabee Conservation through an agreement with Selwyn Township.
Lakefield Campground is a 12 acre (4.9 hectare) campground located on Hague Point at 65 Hague Boulevard, Lakefield. The campground sits between the Otonabee River to the east and the Lakefield Marsh, a Provincially Significant Wetland, to the west.
Lakefield Campground offers seasonal and reservable overnight campsites for trailer and tent camping.
The campground includes a fully serviced comfort station for campers. Camping essentials such as firewood, ice, and refreshments will be available for sale at the campground office during the camping season.
Lakefield Campground Website
Reserve a Campsite
---
Lakefield Campground Utilization Study
Hague Point and the Lakefield Campground have provided residents and visitors of Selwyn with an opportunity to enjoy the outdoors for generations. The Township of Selwyn owns the lands and has contracted a private operator to manage the campground over the past 25 years.
As a result of the Lakefield Campground Utilization Study, Council approved the draft Lakefield Campground Operating Agreement with Otonabee Region Conservation Authority (ORCA) to manage the campground on behalf of the Township beginning in 2023.
Check out the Lakefield Campground FAQ (Updated September 27, 2022) for answers to many questions surrounding the 2023 Camping Season.
Contact Us